F1 2018: Ferrari's Sebastian Vettel wins Bahrain GP
Ferrari's Sebastian Vettel took a fine victory at the 2018 Bahrain Grand Prix, holding off a charge from Mercedes driver Valtteri Bottas to ensure his lead at the head of the championship standings. Vettel who started the race on pole, crossed the chequered flag merely 0.7 seconds ahead of Bottas after a close few set of final laps. While Bottas had to settle for second, it was Lewis Hamilton who took third place in the race, having started ninth.
Vettel wins the 2018 Bahrain GP
When the five red lights went out at Bahrain, Vettel made a good start, leading into the first corner. Unfortunately for Ferrari, Kimi Raikkonen dropped from second place into third, with Bottas managing to get the jump on him. Behind, Hamilton who started from ninth position (he incurred a five-place grid penalty for a gearbox change) slipped back down the order with McLaren's Fernando Alonso moving into ninth position. There was then contact between Hamilton's Mercedes and Max Verstappen's Red Bull. It left Verstappen with a puncture that resulted in him slowly making his way back to the pits, only to retire a few laps later. Red Bull had more trouble, with Daniel Ricciardo's car stopping at the side of the track too, which meant that the team had a double retirement.
Second first place in as many races for Sebastian Vettel
After the Virtual Safety Car period while the stricken Red Bull of Ricciardo was being cleared away, there were battles up and down the order. Perhaps the most striking of these was the fight between Toro Rosso's Pierre Gasly and Haas F1's Kevin Magnussen. It was Magnussen who would have to taste defeat, with Gasly retaining fourth position, and showing early signs of a very strong race.
Hamilton, meanwhile, was picking his way up the order, soon moving into sixth place after heading down the main straight alongside Nico Hulkenberg, Alonso and Esteban Ocon, overtaking them into Turn 1.
Meanwhile, Vettel was still leading from Bottas as the first round of pit stops began. It was the German driver who first pitted for a fresh set of Soft tyres. While Bottas pitted two laps after Vettel, for Medium tyres, Hamilton held the lead briefly. Vettel managed to go past Hamilton to take the lead once again, with Bottas now five seconds behind him, and Hamilton pitting soon for fresh tyres - Mediums.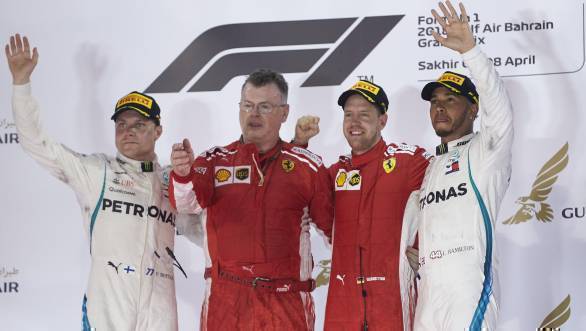 Valtteri Bottas and Lewis Hamilton celebrate on the podium with Ferrari's Sebastian Vettel
While both the Mercedes machines were aiming to get to the end of the race with just that one stop, the Ferraris it seemed would need to pit a second time. Kimi Raikkonen's pit stop, which Ferrari had hoped would help him get a jump on Hamilton, ended in a disaster. Not only did Ferrari release the Iceman early (they would later be fined 50,000 Euro for an unsafe release), Raikkonen also ran over the leg of mechanic Francesco Cigorini, who would end up in the hospital with a broken tibia and fibula. Raikkonen would end his race then and there, in the pit lane.
Vettel would continue the charge for victory, now the lone Ferrari, with both Mercedes drivers trying to catch up. However, it eventually became clear that Ferrari was trying to keep Vettel out till the end of the race, which prompted Mercedes to urge their drivers to try and put more pressure on the German. Even as Bottas upped his pace, Vettel began to feel the effects of his tyres degrading. When Bottas came within a second of Vettel, and Vettel made a mistake at Turn 1, it made the race very close indeed. But Vettel held him off and just about retained his advantage. They crossed the finish line first and second, with Hamilton third.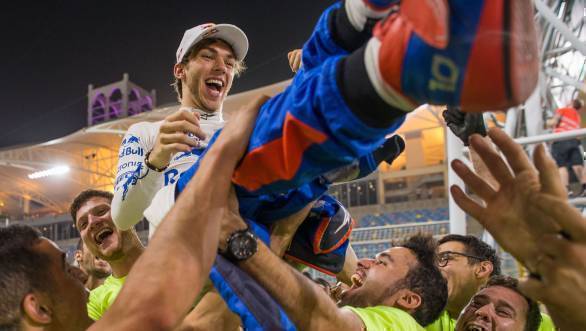 Toro Rosso celebrate with Pierre Gasly who finished the Bahrain GP fourth
Drive of the day went to Pierre Gasly who took the Toro Rosso team to fourth place. Magnussen took fifth place for Haas F1, with Renault's Hulkenberg sixth, Fernando Alonso seventh and Stoffel Vandoorne eighth, ensuring both McLarens finished in the points. Marcus Ericsson took ninth place for Sauber, while Esteban Ocon took tenth place for Force India.
Vettel currently leads the championship standings with 50 points; Hamilton, with 33 points is second, and Bottas, with 22 points is third. A tally of 65 points sees Ferrari in the lead of the Constructors championship, with Mercedes second with 55 points and McLaren third with 22 points.
Formula 1 Round 2 Bahrain GP results: 
1. Sebastian Vettel GER Ferrari
2. Valtteri Bottas FIN Mercedes 
3. Lewis Hamilton GBR Mercedes 
4. Pierre Gasly FRA Toro Rosso
5. Kevin Magnussen DEN Haas F1
6. Nico Hulkenberg GER Renault Sport
7. Fernando Alonso ESP McLaren
8. Stoffel Vandoorne BEL McLaren
9. Marcus Ericsson SWE Alfa Romeo Sauber
10. Esteban Ocon FRA Sahara Force India
11. Carlos Sainz Jr. ESP Renault Sport
12. Charles Leclerc MON Alfa Romeo Sauber
13. Romain Grosjean FRA Haas F1
14. Lance Stroll CAN Williams Martini
15. Sergey Sirotkin RUS Williams Martini
16. Sergio Perez MEX Sahara Force India*
17. Brendon Hartley NZL Toro Rosso*
DNF Kimi Raikkonen FIN Scuderia Ferrari
DNF Max Verstappen NED Red Bull Racing
DNF Daniel Ricciardo AUS Red Bull Racing
*post-race penalties apply