F1 2017: Home hero Hamilton claims British GP win
Lewis Hamilton took a fine win at his home grand prix at Silverstone. The British racer, who competes for Mercedes AMG F1, managed to lead the race from pole, taking the chequered flag rather comfortably. It was to be Hamilton's fifth British GP victory, which puts him on equal with Jim Clark and Alain Prost's number of wins at the event.
Home hero Hamilton leads the way at the 2017 British GP
Second place went to Valtteri Bottas, who drove well all through, sparring with Max Verstappen during the early stages of the race, and eventually overhauling Ferrari's Sebastian Vettel (plagued with tyre issues at the end) to move into third place. Indeed it did look like Bottas would finish third, until there was drama for Kimi Raikkonen during the final stints of the race. Raikkonen's front left tyre failed, which meant that Bottas was able to claim second, while a sullen Iceman took the third step of the podium.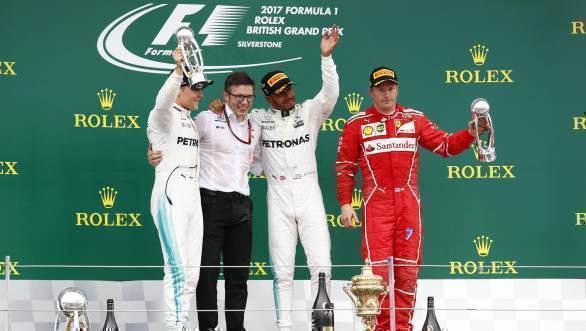 The Mercedes trio certainly are jubilant, while Kimi Raikkonen looks appropriately sullen after having to settle for third place
Vettel eventually finished the race seventh, which meant that his lead in the championship has been cut down to one single point. Vettel has 177 points, to Hamilton's 176. The dark horse of this championship is proving to be Valtteri Bottas, of course, who stands third in the championship with 154 points.
Meanwhile, in the constructor's championship, Mercedes has managed to extend its lead over Ferrari by 55 points, with the German manufacturer having a total points haul of 330.
All smiles here, but Hamilton has cause for concern. He's now got a very able team-mate and a worthy opponent in the form of Bottas
Fourth place at the race went to Red Bull Racing's Max Verstappen, while team-mate Daniel Ricciardo finished fifth. It was Ricciardo who was the driver of the race, for sure, as he managed to move all the way from P19 on the grid to P5, slicing and dicing his way through the pack.
Sixth place went to Nico Hulkenberg in the Renault, while Vettel took a disappointing seventh place after suffering, like his team-mate, a left-front tyre failure. Force India drivers Esteban Ocon and Sergio Perez took eighth and ninth place for Force India, while Felipe Massa took tenth place for Williams.