F1 2017: Daniel Riccardo wins chaotic Azerbaijan Grand Prix
The 2017 Formula 1  was as chaotic as Dadar signal on a weekday! With as many as three safety car periods, a red flag and a whole lot of tyre rubbing, wall grazing action at the street circuit in Baku, the race was nothing short of an epic drama.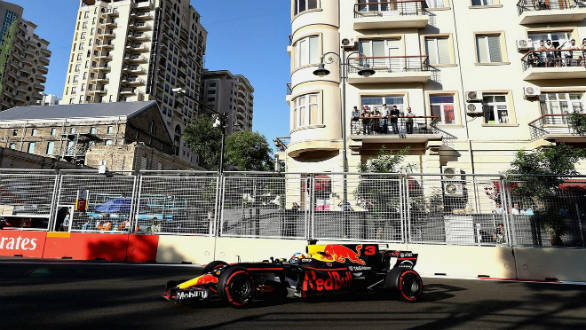 As the five lights went out, pole sitter Petronas Mercedes AMG Lewis Hamilton got off to a brilliant start, leading the pack into Turn One. Behind him, championship leader Vettel tried to get on the inside of Lewis' team mate Valtteri Bottas into Turn One but the Finn managed to shut the door at the last moment. Kimi Raikkonen, meanwhile was fancying his chances by trying to overtake Bottas on the outside of Turn Two. Unfortunately, Bottas clipped the inside kerb and his car got thrown into Kimi, shunting the rear end of the Ferrari into the wall. While Kimi managed to emerge relatively unscathed, Botta's suffered a puncture in his right front tyre, relegating him to the back of the field after pitting for a fresh set.
Red Bull Racing driver Daniel Ricciardo was another driver that suffered after the first lap incidents. Debris from other cars caused his car's brake to overheat, forcing him to make an unscheduled pit stop on Lap 6 to clear the ducts.
At the front, Hamilton managed to fend off every possible challenge from Vettel and the Briton looked in a commanding position. On Lap 13 when the Safety Car had to be deployed to clear Danil Kvyat's stricken Torro Rosso.
Racing resumed after a couple of laps, but an incident involving the Force Indias of Sergio Perez and Esteban Ocon, led to another safety car period to allow marshals to clear the debris. This safety car period led to quite an unusual incident involving Hamilton and Vettel. On the 20th lap, while exiting Turn 16, Hamilton slowed abruptly, catching the German by surprise. Vettel could not brake on time and his car's nose ended up colliding with Hamilton's rear diffuser, causing minor damage to both cars. A furious Vettel drove alongside Hamilton, one hand in the air, protesting Hamilton's move. In the heat of the moment, the two cars brushed against each other, with the video footage suggesting that Vettel deliberately swerved into Hamilton's car.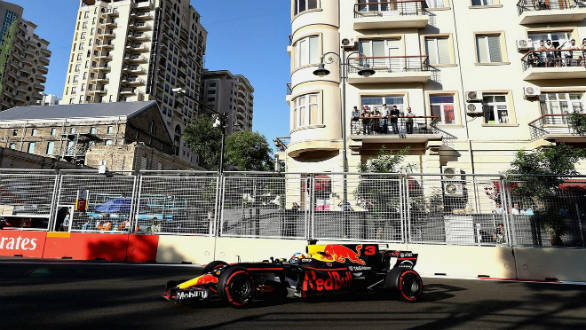 This was deemed as dangerous driving by race stewards who slapped a 10-second stop go penalty on Vettel.
A few laps later, the stewards decided to Red flag the race as there was too much debris lying around various spots on the track.
The race was restarted behind the safety car, after 23 minutes with Hamilton once again staying at the front with Vettel in pursuit. Daniel Ricciardo made a brilliant move to get into P3 at the restart and it was upon him to bring the Red Bull some glory after his team mate Max Verstappen had to retire earlier in the race due to engine issues.
A few laps later, Hamilton was forced to make a pit stop as the head rest on his car had come undone, probably because it was not fitted correctly after the red flag period. Soon after Vettel pitted to serve his 10-second penalty and he managed to rejoin ahead of Hamilton.
Daniel Ricciardo was the beneficiary of all this chaos as he now found himself in the lead. Williams driver Lance Stroll was in second and under immense pressure from Valtteri Bottas who managed to resurrect his race after the first lap skirmish with Kimi.
Towards the end Riccardo managed to maintain a decent gap and finish first. Lance Stroll suffered a minor heartbreak as Bottas just about managed to sneak ahead at the finish line, demoting him to third. That said, it was a well deserved podium finish for the rookie.
The next race will be held in Austria at the Red Bull Ring in two weeks time.