F1 2016: Lewis Hamilton wins Hungarian GP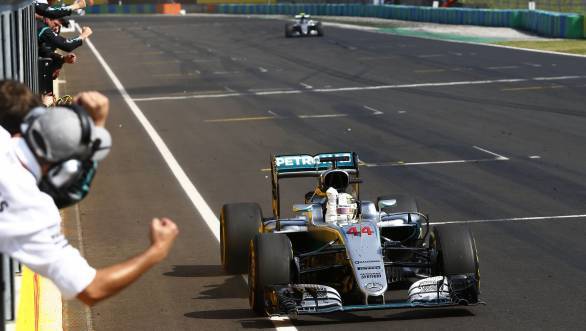 Lewis Hamilton celebrates as he crosses the line first at the 2016 Hungarian GP and moves into the lead of the driver's championship
Victory at the 2016 Hungarian GP means that Lewis Hamilton has now moved into the lead of the Formula 1 Driver's Championship standings, having taken a comfortable win over team-mate, pole-man and erstwhile championship leader - Nico Rosberg.
In fact, Hamilton proved to be the dominant force all through the race, getting his front wing ahead of Rosberg's at the very first corner of the race, and staying ahead of the rest of the pack all the way to the end of the race.
It was, for Hamilton, a fairly easy race, given that the dicing was limited to the first corner. Rosberg would recover from his poor start, that pushed him down to third place, while Red Bull's Daniel Ricciardo managed to move into second, by reclaiming second on the second lap of the race. From thereon, he would continue to remain in second place all through the race.
Ricciardo took third place for Red Bull, in a race that proved that the team didn't really have what it took to challenge the two Silver Arrows ahead of them. Ferrari's Sebastian Vettel finished fourth. Finishing fifth was Red Bull's Max Verstappen, who fought with Ferrari's Kimi Raikkonen for a good measure of the race. Raikkonen, who ended the race sixth, would later state that Verstappen wasn't right to defend as aggressively as he did - with the pair even coming into contact on Lap 47, resulting in front wing damage for the Ferrari.
Fernando Alonso managed to finish seventh for McLaren, the position in which he started, although his team-mate Jenson Button's race ended in retirement. Carlos Sainz Jr. would finish the race eighth, with Valtteri Bottas ninth in the Williams, and Nico Hulkenberg tenth for Sahara Force India.