F1 2016: Home hero Hamilton wins British GP
Lewis Hamilton's fourth win of five races, the latest of which came at the 2016 British Grand Prix, could well signal a fourth F1 world championship title by the end of the season. The 25 points that the defending champion scored for the win at Silverstone helped him close the gap to team-mate and championship leader Nico Rosberg. The Mercedes AMG F1 duo are now separated by just a single point, with Rosberg on 168, while Hamilton has 167 points.
Lewis Hamilton leads Nico Rosberg on his way to victory at the 2016 British Grand Prix
The British GP started behind the Safety Car thanks to rain coming down rather heavily on track. When the race started in earnest, with the Safety Car finally heading back into the pit lane after the track began to dry out a little on the sixth lap, Hamilton put his head down and began opening up a gap to the chasing pack led by Rosberg. While the drivers began to pit for intermediate tyres soon after the Safety Car headed back into the pits, there were three drivers who were clearly in with an advantage - Hamilton, Rosberg and Red Bull Racing wunderkind Max Verstappen.
While Hamilton was busy ensuring that his lead could not be threatened, Verstappen set about chasing after Rosberg. An inspired move around the outside of Rosberg on Lap 16 ensured that it was the Red Bull Racing driver who was in second place. However, on Lap 38 Rosberg managed to reclaim second place, and set about chasing Hamilton.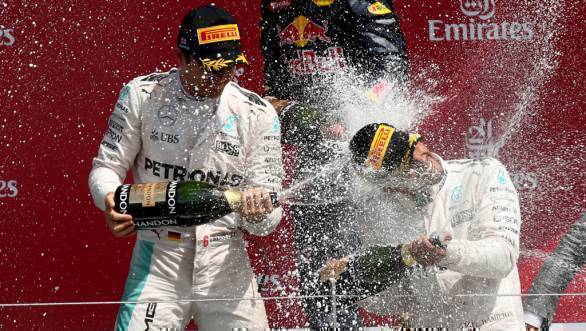 Podium celebrations at the 2016 British GP at Silverstone
It was here that the race got controversial. While Rosberg was pursuing Hamilton, he received a message via the team radio informing him that he'd lost seventh gear. Apparently they gave him a few too many instructions, for the stewards would later deem that the team was in violation of the radio communication regulations. Which meant that even though Rosberg finished second on track - Hamilton had crossed the chequered flag first - he was handed a ten second penalty which would see him bumped down the order to third place. Thus Verstappen would get promoted to second place.
Verstappen's team-mate Daniel Ricciardo would ultimately finish the race fourth, one spot ahead of Ferrari's Kimi Raikkonen. Sixth place would go to Sahara Force India's Sergio Perez, while team-mate Nico Hulkenberg finished seventh. Eighth place would go to Carlos Sainz Jr, while Sebastian Vettel had a forgettable weekend to finish ninth, and Daniil Kvyat took home tenth place.