F1 2016: Hamilton wins Austrian GP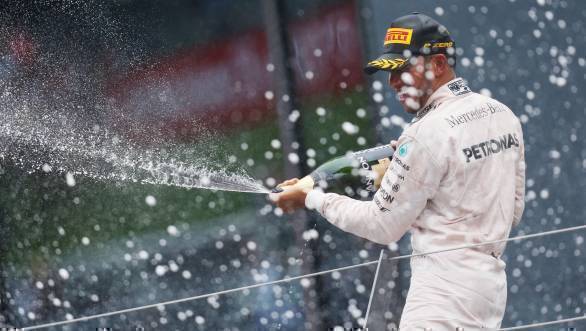 Lewis Hamilton celebrates his victory at the 2016 Austrian Grand Prix
The 2016 season of Formula 1 seems to find the advantage slowly swinging away from Nico Rosberg, and moving instead in the direction of his Mercedes AMG F1 team-mate Lewis Hamilton. This became evident at the Austrian GP. Hamilton would win the race, after his last lap overtaking move over Rosberg ended with contact that resulted in Rosberg finishing the race fourth. The contact between the two resulted in a broken front wing, and also a ten-second penalty after the stewards held the championship leader responsible for the clash. This means Rosberg's lead in the championship has now been cut down to a mere 11 points. It also means that Mercedes boss Toto Wolff is now shaking his head and has gone on record as saying that perhaps it is time for the team to consider bringing back team orders, instead of letting their drivers continue to race each other.
Finishing second in the race was Red Bull's Max Verstappen, while Ferrari driver Kimi Raikkonen was surprised, but pleased that he'd managed to take a third place finish at the race, thanks to the clash between the Mercedes pair. It was disappointment for Raikkonen's Ferrari team-mate, four-time world champion Sebastian Vettel, who crashed out of the race on Lap 27, after his the tyre on his car delaminated.
Fifth place went to Daniel Ricciardo, while Jenson Button managed to finish sixth for McLaren - their best finish of the 2016 season.
Seventh place went to Romain Grosjean in the Haas F1, the team's first points since the Russian GP. Carlos Sainz Jr finished eighth overall, while Valtteri Bottas finished ninth for Williams. While Sergio Perez crashed out on the second-last lap of the race, it was advantage Manor's Pascal Wehrlein, who rounded off the top 10 in Austria.