F1 2014: Will Monaco bring an end to Mercedes domination?
The Circuit de Monaco will play host to an exciting weekend of Formula 1 action as Red Bull and Ferrari look to run hot at Mercedes' heels in an attempt to play catch up to the team that is running away at the head of the championship standings. Monte Carlo, being one of the toughest races of the calendar, has the least number of straights and the tightest of turns including that beautiful hairpin bend at Grand Hotel (Loews). This might work against Mercedes whose overall top speed has determined most of its domination in the season so far.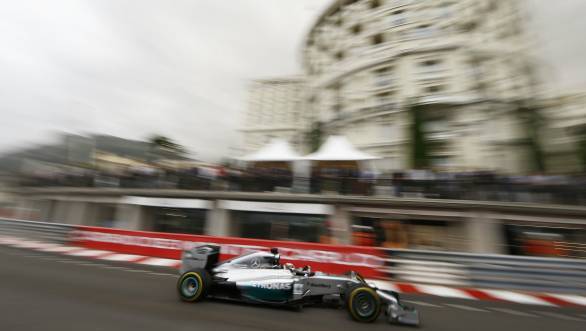 Hamilton's run of luck could well end at Monaco, if Red Bull and Ferrari manage to get their act together
Having won from pole at Monaco last year, Mercedes' Nico Rosberg along with team-mate Lewis Hamilton, is confident of taking the championship further away from their rivals. Nobody in the history of Formula 1 has so far gone on to lose the driver's championship having won five consecutive races. This should sound like an interesting bait for Lewis who has won the last four races in rather comfortable fashion. For Red Bull though, Monte Carlo brings in more positivity as far as their Championship hopes are concerned. Sebastian Vettel, who recorded the fastest lap at the circuit last year will be looking forward to a clean race and hoping to push his RB10's cornering ability to the best. Team-mate Daniel Ricciardo will also be high on confidence having finished on the podium at the Spanish Grand Prix.
Ferrari on the other hand will be looking for inspiration from Red Bull in toppling vulnerable Mercedes. Fernando Alonso who was heaped praise on by Ferrari President Luca di Montezemolo as the "Best driver in the world", will certainly look forward to a change in the front pack. "I think Monte Carlo will be one of the few possibilities to challenge Mercedes, especially for Red Bull. In the corners they are very fast but on the straights they seem to lose a lot of lap time. In Monte Carlo there are no straights so Red Bull could challenge Mercedes," he said. Meanwhile it was Alonso who managed to set the fastest time in FP2 at the street circuit.
The Circuit de Monaco might also be an interesting comeback for homeboy Rosberg who was much faster than teammate Lewis Hamilton last year and won it in some style, fending off Vettel.
Will this coming weekend see an end to the Mercedes domination? We're not entirely sure that it's possible, but there are certain men clad in scarlet and some others in blue, who will be wanting just that!