F1 2014: Sacha Woodward-Hill takes over from Bernie Ecclestone
Bernie Ecclestone, Formula 1's puppet master, has been in more than just a spot of trouble. This was a fact that came to light as far back as November 2012. The charges levelled against Ecclestone were serious. He'd been accused of bribing Gerhard Gribkowsky of BayernLB in order to ensure that Gribkowsky saw to it that CVC Capital Partners would acquire a controlling stake in Formula 1, retaining Ecclestone to run the show for them. Now that the bribery trial has gone to court, a battle that is expected to last for a period of four months, Ecclestone has had to relinquish control of Formula 1 for the duration of the trial. Who's going to be calling the shots at this point? Evidently a certain Sacha Woodward-Hill, a name Formula 1 fans were not very familiar with until recently. Woodward-Hill has taken over from Ecclestone as his four-month trial kicked off in Munich on the 24th of April, 2014. She has served as the Chief Legal Officer of the Formula One group and is well versed with the ways of the group after having worked with Bernie for 18 years and gaining his implicit trust over the period.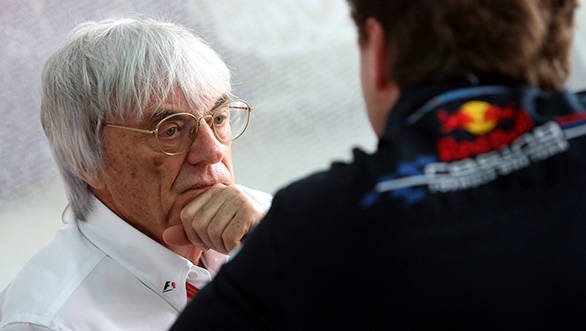 Bernie Eccelstone won't really be calling the shots in F1 at least for the next four months
Sacha who is often mistakenly believed to be Australian, was actually born in Middlesex, London in 1969, as has been reported by veteran Formula 1 journalist Joe Saward on his F1 blog.
Prior to joining the Formula One group in 1996, Woodward-Hill, a qualified solicitor worked in that capacity in prestigious law firms like Taylor Joynson Garrett. She then become the head of Formula One's legal affairs by the end of 2001 and has been involved in every major deal in recent years and also holds directorship of 17 Formula One connected businesses that amount to combined assets close to 7 billion USD.
Woodward-Hill has maintained a low profile in F1, although she works with the 81-year old Ecclestone on every legal matter and is also an integral part of the force that has let him build the sport into the multi-billion dollar financial juggernaut. And while Ecclestone hasn't yet shown any signs of slowing down, there has been some talk of a possible successor taking over from him over the next four years. Names such as Christian Horner were floated around, although at one point Ecclestone himself commented that there was always the possibility of a woman taking over.
With Sacha Woodward-Hill taking over for the duration of Ecclestone's trial, her efficiency at the job will surely be on test as the relentless pressure from the press builds on.