F1 2014: Rosberg takes pole at Hungaroring
Lewis Hamilton fans are outraged. While at the German Grand Prix Hamilton had a disastrous qualifying session where a brake failure put him out during Q1, at the Hungaroring, things were even more bizarre. When the 2008 world champion exited Turn 13 during his very first timed lap, his car caught fire. Hamilton had to park it and walk away as marshals put out the flames in what is obviously a highly forgettable qualifying session for him. Lewis will either start the race from the pitlane or from the back of the grid. This has led conspiracy theorists to suggest that Mercedes is favouring his team-mate, the German Nico Rosberg, for reasons of national sentiment. We're not sure about that, but Rosberg managed to take pole at Hungaroring, that too by a half a second.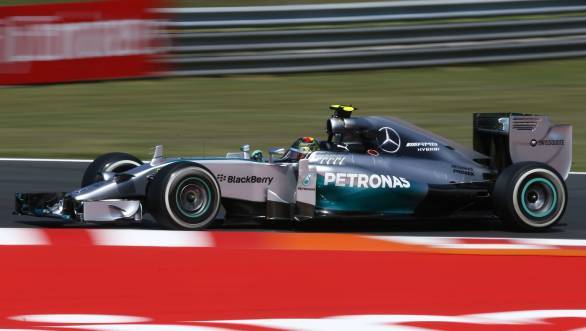 Rosberg took his third pole in a row at Hungaroring
Q3 looked set to be interesting, with Rosberg's runs likely to be scuppered by the red flag that came out when McLaren driver Kevin Magnussen crashed. But nothing of the sort happened, and Nico set a time of 1m 715.22s, ahead of Red Bull Racing's Sebastian Vettel. Third spot on the grid went to Valtteri Bottas, who has already managed three podiums in the last three races, with Vettel's RBR team-mate Daniel Ricciardo taking fourth spot on the grid. Fernando Alonso took fifth spot on the grid, with Felipe Massa putting the second Williams sixth. Jenson Button, Jean-Eric Vergne, Nico Hulkenberg and Kevin Magnussen rounded out the top 10.
2014 Hungarian GP Qualifying Results
1. Nico Rosberg Mercedes-Mercedes 1m 22.715s
2. Sebastian Vettel Red Bull-Renault 1m 23.201s
3. Valtteri Bottas Williams-Mercedes 1m 23.354s
4. Daniel Ricciardo Red Bull-Renault 1m 23.391s
5. Fernando Alonso Ferrari-Ferrari 1m 23.909s
6. Felipe Massa Williams-Mercedes 1m 24.223s
7. Jenson Button McLaren-Mercedes 1m 24.249s
8. Jean-Eric Vergne Toro Rosso-Renault 1m 24.720s
9. Nico Hulkenberg Force India-Mercedes 1m 24.775s
10. Kevin Magnussen McLaren-Mercedes No time
11. Daniil Kvyat Toro Rosso-Renault 1m 24.706s
12. Adrian Sutil Sauber-Ferrari 1m 25.136s
13. Sergio Perez Force India-Mercedes 1m 25.211s
14. Esteban Gutierrez Sauber-Ferrari 1m 25.260s
15. Romain Grosjean Lotus-Renault 1m 25.337s
16. Jules Bianchi Marussia-Ferrari 1m 27.419s
17. Kimi Raikkonen Ferrari-Ferrari 1m 26.792s
18. Kamui Kobayashi Caterham-Renault 1m 27.139s
19. Max Chilton Marussia-Ferrari 1m 27.819s
20. Marcus Ericsson Caterham-Renault 1m 28.643s
Lewis Hamilton Mercedes-Mercedes No time
Pastor Maldonado Lotus-Renault No time