F1 2014: Mercedes leads the way in FP1 and FP2 at Bahrain
With two races gone by in the 2014 season of Formula 1, and the third race weekend underway, this season has already got a couple of trends running through it. The most prominent one, of course, is that the Silver Arrows appear to be dominating proceedings rather thoroughly. And so it was too, at Bahrain. In the first session under the bright sun and then in the second practice session under the floodlights, the Mercedes AMG F1 cars of Lewis Hamilton and Nico Rosberg led the way. Hamilton's time during FP1 was 1min 37.502 secs, while during FP2 the fastest time was 1min 34.325 secs. Of course, the timings during the first free practice session weren't really representative of the actual pace the cars would be doing - qualifying and the race proper will be held at night.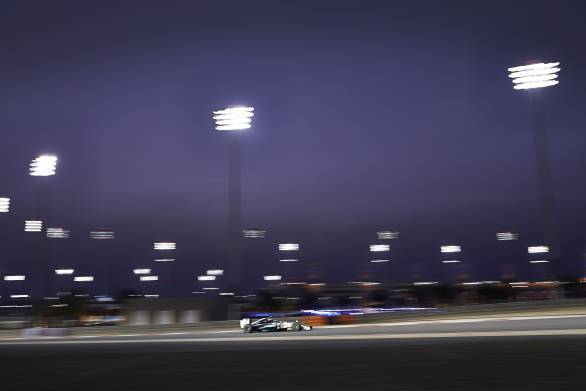 Nothing too unusual happened during FP1, save for the fact that Fernando Alonso emerged from the pits at one point with three medium compound tyres and one soft compound tyre on his Ferrari. Of course, this necessitated him to stop the car and have it wheeled back into the pitbox for the crew to right the matter.
Alonso finished third, behind the two Mercedes drivers in FP1. With Sahara Force India's Nico Hulkenberg finishing the session fourth fastest and the McLaren of Jenson Button a further half second down in fifth. Then came the Ferrari of Kimi Raikkonen, followed by rookie Kevin Magnussen in the second of the McLarens, while Daniil Kvyat, Sergio Perez and Sebastian Vettel rounded off the top 10.
The order up front remained the same during the second free practice session, with Hamilton, Rosberg and Alonso occupying the top three spots on the timing sheets. And while Daniel Ricciardo had only managed to set the 14th fastest lap during FP1, he set the fourth fastest time of the session in FP2. Ricciardo has promised revenge, after being disqualified following the first race at Australia and having received a penalty at the Malaysian GP.
Full FP1 timings:
1. Lewis Hamilton Mercedes-Mercedes 1m 37.502s
2. Nico Rosberg Mercedes-Mercedes 1m 37.733s
3. Fernando Alonso Ferrari-Ferrari 1m 37.953s
4. Nico Hulkenberg Force India-Mercedes 1m 38.122s
5. Jenson Button McLaren-Mercedes 1m 38.636s
6. Kimi Raikkonen Ferrari-Ferrari 1m 38.783s
7. Kevin Magnussen McLaren-Mercedes 1m 38.949s
8. Daniil Kvyat Toro Rosso-Renault 1m 39.056s
9. Sergio Perez Force India-Mercedes 1m 39.102s
10. Sebastian Vettel Red Bull-Renault 1m 39.389s
11. Felipe Massa Williams-Mercedes 1m 39.533s
12. Jean-Eric Vergne Toro Rosso-Renault 1m 39.862s
13. Felipe Nasr Williams-Mercedes 1m 40.078s
14. Daniel Ricciardo Red Bull-Renault 1m 40.406s
15. Adrian Sutil Sauber-Ferrari 1m 40.652s
16. Pastor Maldonado Lotus-Renault 1m 40.793s
17. Jules Bianchi Marussia-Ferrari 1m 40.889s
18. Giedo van der Garde Sauber-Ferrari 1m 40.913s
19. Romain Grosjean Lotus-Renault 1m 41.036s
20. Max Chilton Marussia-Ferrari 1m 41.794s
21. Robin Frijns Caterham-Renault 1m 42.417s
22. Marcus Ericsson Caterham-Renault 1m 42.711s
Full FP2 timings:
1. Lewis Hamilton Mercedes-Mercedes 1m 34.325s
2. Nico Rosberg Mercedes-Mercedes 1m 34.690s
3. Fernando Alonso Ferrari-Ferrari 1m 35.360s
4. Daniel Ricciardo Red Bull-Renault 1m 35.433s
5. Felipe Massa Williams-Mercedes 1m 35.442s
6. Jenson Button McLaren-Mercedes 1m 35.528s
7. Sebastian Vettel Red Bull-Renault 1m 35.606s
8. Daniil Kvyat Toro Rosso-Renault 1m 35.640s
9. Kevin Magnussen McLaren-Mercedes 1m 35.662s
10. Sergio Perez Force India-Mercedes 1m 35.802s
11. Valtteri Bottas Williams-Mercedes 1m 35.920s
12. Jean-Eric Vergne Toro Rosso-Renault 1m 35.972s
13. Nico Hulkenberg Force India-Mercedes 1m 35.998s
14. Kimi Raikkonen Ferrari-Ferrari 1m 36.366s
15. Adrian Sutil Sauber-Ferrari 1m 36.962s
16. Esteban Gutierrez Sauber-Ferrari 1m 36.975s
17. Pastor Maldonado Lotus-Renault 1m 37.259s
18. Romain Grosjean Lotus-Renault 1m 37.599s
19. Jules Bianchi Marussia-Ferrari 1m 37.800s
20. Max Chilton Marussia-Ferrari 1m 38.247s
21. Kamui Kobayashi Caterham-Renault 1m 38.257s
22. Marcus Ericsson Caterham-Renault 1m 39.136s