F1 2014: Hamilton wins at rain-soaked Suzuka
Lewis Hamilton might have a ten-point lead over Mercedes AMG F1 team-mate Nico Rosberg after winning the 2014 Japanese Grand Prix at Suzuka. However, the faces of the three drivers on the podium - first-placed Hamilton, second-placed Rosberg and third-placed Sebastian Vettel - were drawn. The race had ended under a red flag, with Jules Bianchi's Marussia aquaplaning off Turn 7 and crashing into the back of a recovery vehicle that was clearing away Adrian Sutil's crashed Sauber. Bianchi was reported to be unconscious following the crash and was then shifted to the hospital, where surgery was carried out for what was deemed to be "severe head injuries". Needless to say, the celebrations on the podium were muted.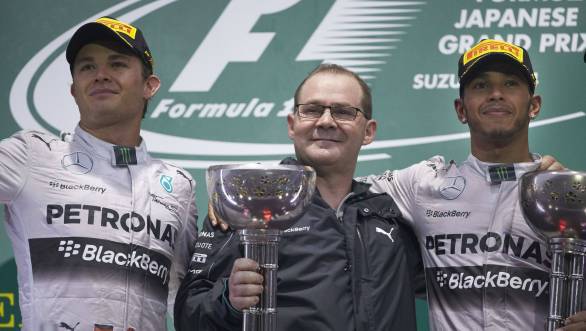 The 2014 Japanese Grand Prix was one of those rare races that saw two red flags during its course. When the race began, the downpour was so heavy that it had to be red flagged after merely two laps. The cars all gathered in the pitlane, waiting for the rain to cease. And when it did, with the track still wet, the race began behind the Safety Car, with the race proper commencing on Lap 9, when the Safety Car pulled into the pits.
While Hamilton, who had started the race on pole running second behind team-mate Rosberg, it was Jenson Button in the McLaren who first pitted for intermediate tyres to best tackle the drying track and managed to pull clear in third. Williams drivers Valtteri Bottas and Felipe Massa were running fourth and fifth ahead of the two Red Bulls after the first round of pitstops. But the pace of the Red Bulls wasn't something the Williams could keep in check, and Sebastian Vettel swiftly carved his way past the pair of them, with team-mate Daniel Ricciardo following suit.
Eventually Hamilton managed to get past team-mate Rosberg and move into the lead. Rosberg would later admit that Hamilton had been the faster of the two cars all through the race and hence deserved the top step of the podium. At this point in the race, the rain began to come down once again.
Several drivers decided to pit once again, including Button, who had been passed for fourth by Ricciardo, and was eager to switch to full wets. But the race was red flagged due to Bianchi's accident. This meant that Button had to settle for fifth, behind Ricciardo, with Bottas and Massa sixth and seventh. Nico Hulkenberg, Jean-Eric Vergne and Sergio Perez rounded out the top 10.
Ahead of the Russian Grand Prix, Hamilton now has a 10 point lead over his team-mate Rosberg, who lies second in the standings with 256 points.