F1 2014: Hamilton takes a lights to flag win at Sepang
That there was every chance that the Malaysian GP would turn into a rather predictable race was a given. After all, the two Mercedes drivers - Lewis Hamilton and Nico Rosberg - were starting the race first and third on the grid, which meant that it was almost a certainty that both would end up on the podium. Then, there was the fact that there was no rain predicted during the race itself - unlikely that there would be any major shuffle to the grid.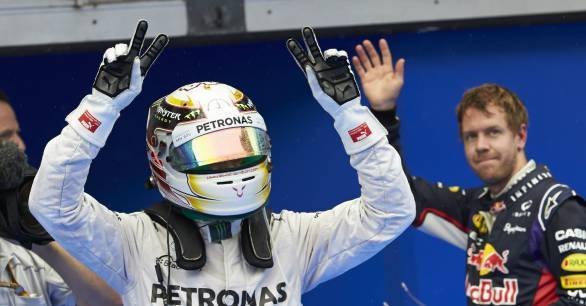 When the five red lights went out at Sepang, Hamilton pulled off into the distance, with his team-mate Rosberg making a terrific start in the second of the Silver Arrows. Vettel was the big loser on the first lap, for while he was focussing on staying firmly on the tail of Hamilton's Mercedes, Rosberg managed to get the jump on him. Vettel's team-mate Daniel Ricciardo also got the better of the four-time world champion on the first lap, and Vettel found himself down in fourth, although temporarily.
As the race wore on, it was Hamilton who led comfortably from his team-mate, never really losing position or feeling the threat from one else on the grid. The battle for second was also rather tame - Vettel looked like he had the pace to catch Rosberg on occasion. But everytime the gap narrowed, Rosberg just upped his pace and made sure his position was never in threat. Vettel on the other hand looked on occasion like his position could be threatened by the likes of team-mate and Melbourne's podium hero (although that was eventually taken away from him) Ricciardo. Force India's Nico Hulkenberg also gave the chase, battling for fourth place with Fernando Alonso. But Alonso managed to steal position from Hulkenberg with just a few laps to go.
The podium in Sepang once again demonstrated Mercedes' superiority over the rest of the grid. It was the first one-two finish for the Silver Arrows since the Italian GP in 1955. It was also Lewis Hamilton's 100th points scoring finish in a Formula 1 Grand Prix.
At the head of the championship standings after two rounds of the 2014 season is Nico Rosberg who won the season opening race at Melbourne. F1 now heads to Bahrain in two weeks' time.
Pos Driver                Team
1. Lewis Hamilton        Mercedes
2. Nico Rosberg          Mercedes
3. Sebastian Vettel      Red Bull-Renault
4. Fernando Alonso       Ferrari
5. Nico Hulkenberg       Force India-Mercedes
6. Jenson Button         McLaren-Mercedes
7. Felipe Massa          Williams-Mercedes
8. Valtteri Bottas       Williams-Mercedes
9. Kevin Magnussen       McLaren-Mercedes
10. Daniil Kvyat          Toro Rosso-Renault
11. Romain Grosjean       Lotus-Renault
12. Kimi Raikkonen        Ferrari
13. Kamui Kobayashi       Caterham-Renault
14. Marcus Ericsson       Caterham-Renault
15. Max Chilton           Marussia-Ferrari
Retirements:
Daniel Ricciardo      Red Bull-Renault
Esteban Gutierrez     Sauber-Ferrari
Adrian Sutil          Sauber-Ferrari
Jean-Eric Vergne      Toro Rosso-Renault
Jules Bianchi         Marussia-Ferrari
Pastor Maldonado      Lotus-Renault
Sergio Perez          Force India-Mercedes
Drivers' championship:
1. Nico Rosberg       43
2. Lewis Hamilton     25
3. Fernando Alonso    24
4. Jenson Button      23
5. Kevin Magnussen    20
6. Nico Hulkenberg    18
7. Sebastian Vettel   15
8. Valtteri Bottas    14
9. Kimi Raikkonen     6
10. Felipe Massa       6
11. Jean-Eric Vergne   4
12. Daniil Kvyat       3
13. Sergio Perez       1
Constructors' championship:
1. Mercedes                 68
2. McLaren-Mercedes         43
3. Ferrari                  30
4. Williams-Mercedes        20
5. Force India-Mercedes     19
6. Red Bull-Renault         15
7. Toro Rosso-Renault       7
8. Sauber-Ferrari           0
9. Lotus-Renault            0
10. Caterham-Renault         0
11. Marussia-Ferrari         0