F1 2013: Italian GP Preview
Monza. The very name conjures up images of the scarlet clad tifosi waving Prancing Horse flags and cheering Ferrari on in unison. There's something special about this historic and iconic racetrack, part of which is because it is thoroughly steeped in history. The Italian GP has been on the F1 calendar since 1950, and Monza has hosted the Grand Prix every single year with the exception of 1980 when the venue was shifted to Imola, San Marino. Which means that the 2013 edition of the Italian GP is the 62nd time that Monza is playing host to an F1 race. What's not to like about that!
He's got the trophy from Spa, but can Vettel win a sixth race at Monza
As we go into the 2013 edition of the race, the most successful  driver at Monza has hung up his helmet for a second time. That's right, tifosi darling turned traitor, Michael Schumacher who has five wins at Monza isn't there any longer, but that doesn't mean the battle for the win will be any less of a thrill. At least we hope that's the case - if Monza turns out to be a processional win with Sebastian Vettel at the head of the pack, taking his sixth victory of the season, it could well signal the end of the championship fight. It could be a harbinger of things to come, namely Vettel's fourth consecutive world championship title.
It is Monza, home of the Tifosi, so all eyes will be on Alonso and Massa
Who else do we watch out for at Monza? Truth be told, since it is Monza and it is home of the tifosi, it will be impossible to ignore the Ferraris of Fernando Alonso and Felipe Massa. Unfortunately for Massa though, his results over the past year will mean all attention will be focused on his team-mate. Indeed, if the Ferrari's pace at the last race at Spa is anything to go by, Fernando Alonso might just be able to gun for a home win for the Italian squad. Let's not forget that stunning drive he put in, catapulting himself from ninth place at race start to second when the chequered flag came down. Alonso's performance at Monza will have a very direct bearing on the championship standings.
Kimi Raikkonen is another driver we'd watch out for, even though his championship hopes have taken a bit of a beating no thanks to a DNF at Spa. But the Iceman has proved he can win, or nearly win, when it matters. Even though the Lotus E21 isn't as fast as the Red Bull, given that Monza is a hot track that can well prove to be hard on the tyres, we might well see a Lotus on the podium. We're expecting that it will be Kimi's, although his team-mate Romain Grosjean has been talking of that elusive first win not being too far away now.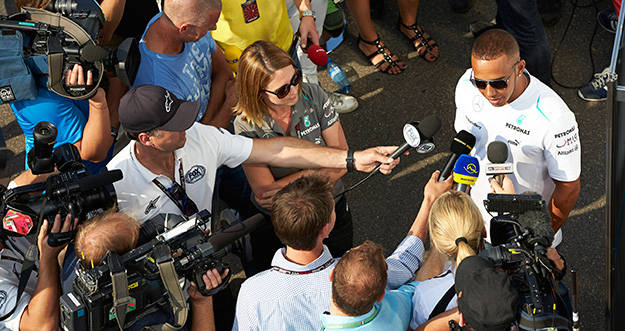 Hamilton's won here before, but can he do it again?
Unfortunately, McLaren hasn't shown a turn of pace this year at all. A fact that has been frustrating for Jenson Button and to a lesser extent Sergio Perez. And while Button very nearly won the 2012 Italian GP, the team that is now celebrating its 50th year in F1 isn't hoping for a podium. It's the other Silver Arrows, the ones of the 'secret tyre test' fame that might do well. Can Lewis Hamilton claim another pole position for Mercedes AMG F1 at Monza? As for a win, he's won here before. But so have Fernando Alonso and Sebastian Vettel (twice each). Perhaps qualifying tomorrow will let us in on a few secrets.
Related Stories