Exclusive: Volkswagen may bring T-Roc instead of Taigun to India
Volkswagen is likely to bring MQB-based T-Roc instead of Taigun to India, a source close to the development has told OVERDRIVE.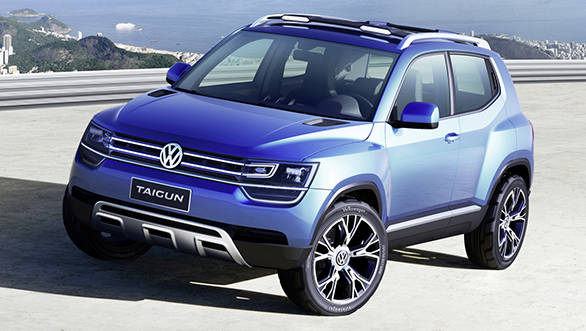 When Volkswagen showed off the Taigun at the 2014 Auto Expo it was naturally assumed that they would be bringing the compact SUV down to India to take on the Nissan Duster and Ford.
However we now have reasons to believe that might not be the case. Volkswagen is considering shifting their Indian production facilities over to the new MQB. Nothing is decided yet but there is much discussion on the topic both within the organisation and outside with the media. The Taigun is based on the PQ25 platform that VW's India plant currently works with for the Vento and Polo. Volkswagen showcased the T-Roc concept, which is based on the MQB platform, at the 2014 Geneva motor show in March.
The MQB is a huge platform that is going to underpin a chunk of future Volkswagens. The platform allows for transverse mounted front engined front wheel drive cars. A number of vehicles based on it are already on sale including the Audi A3, Skoda Octavia, VW Golf and the newly released Audi TT. That number is only expected to grow in the near future. While bringing in the MQB process to India would mean big input costs to make the change, it would also mean huge benefits. And in that case, T-Roc would make more sense than Taigun.
The T-Roc meanwhile is a compact, two-door SUV concept with a removable roof. Power comes from a 2.0-litre TDI diesel that makes 182PS, channeled to the road via all four wheels. Clearly, the T-Roc is early in the concept stage but the production car it spins off could be a compact four-door SUV with small and efficient petrol and diesel powertrain. Which would make it perfect for the Indian market.
Price (Ex-Delhi)
Starts Rs 10.5 Lakhs
Price (Ex-Delhi)
Starts Rs 21.35 Lakhs
Price (Ex-Delhi)
Starts Rs 30.5 Lakhs
Price (Ex-Delhi)
Starts Rs 63.12 Lakhs
Price (Ex-Delhi)
Starts Rs 7.99 Lakhs
Price (Ex-Delhi)
Starts Rs 25.99 Lakhs