Exclusive: Tata Motors Prima racing trucks spied ahead of Auto Expo 2014 unveil
We have all been looking forward to Tata Motors' initiative to bring truck racing to India. The Indian automobile manufacturer is about to announce the Tata Motors Prima Truck Racing championship, and we just managed to get exclusive spy images of what these racing machines will look like ahead of their Auto Expo unveil.
The race trucks are based on Tata's Prima series, which Tata calls their world truck. About 12 Prima trucks, which will be heavily modified for racing, will take to race tracks across India to compete against each other. While initially it was believed that in 2014 there would only be an introductory round at the BIC, it has now emerged that the mega machines will race at the Chennai and Coimbatore tracks as well.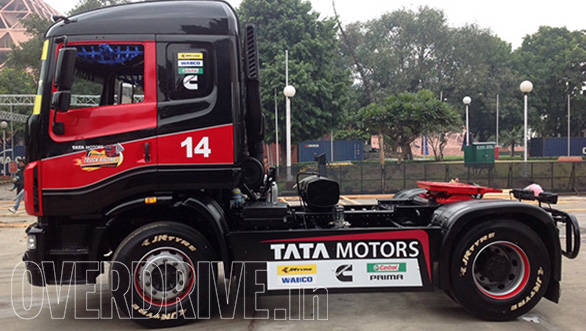 These trucks have been fitted with FMSCI-approved safety features like brake coolers, roll cages, fire extinguishers and fuel tanks. All the trucks will be capped to a top speed of around 100kmph. While there won't be any big changes made to the tracks, bigger recovery equipment is definitely on the cards. Tata's sponsors for the event are Wabco, Castrol and JK Tyre.
Tata is formally announcing its racing series today and they will showcase their trucks at the upcoming Auto Expo 2014. The trucks will be on display at the Component Manufacturers' stall at Pragati Maidan during the Expo.