ERC 2018: Victory for Ghosh and Naik in the ERC3 class at EKO Acropolis Rally
Amittrajit Ghosh and Ashwin Naik had a dream debut in the 2018 FIA European Rally Championship, scoring victory in the ERC3 class of the EKO Rally Acropolis. The duo won their category driving a Ford Fiesta R2, prepared by Baltic Motorsport Promotion .
Ghosh, who was the overnight leader in the category, only needed to bring home his car in order to win his category. This is Ghosh's first ever rally in the European Rally Championship, and only his third international event.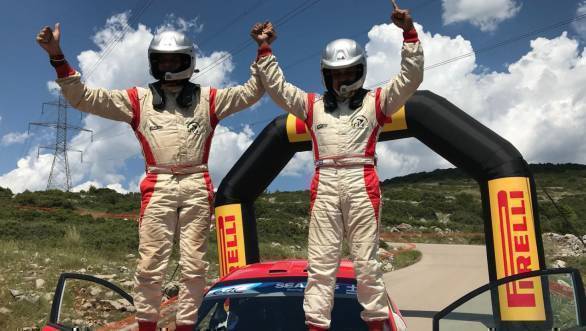 Amittrajit Ghosh and Ashwin Naik celebrate their win in the ERC3 class of the 2018 EKO Acropolis Rally
The Indian driver had chosen a careful approach to the event, choosing to finish the rally safely, rather than aim to be the fastest man on each stage. It was something that paid off, with the rocky stages catching out his rivals, while he himself was able to drive steadily on to victory.
"Coming here with an older generation R2, the goal was to finish. In the back of my mind I knew that if we got to the finish we'd be on the podium, but yesterday morning when I was only 2s behind [Artur] Muradian in the Peugeot I knew I could do it," he told ERC Radio at the finish line.
In fact it was Muradian, of TBRacing, who had been the quickest ERC3 driver throughout the three days, but his Peugeot 208 had suffered on the punishing terrain. Then, there was the case of mysteriously sheared wheel bolts in SS5 on Saturday morning, which caused him to retire from the lead. he lead.
"[The wheel bolts] sheared, like somebody cut them off. It's funny because it was the first turn of the stage, 90 metres, sharp right and you can see the wheel flying in front of you!," he said in an official ERC press release. "We lifted the car and when we decided to put the tyre back on, we noticed there were no bolts. We found all four of them in the corner later on!"
This meant that despite having been the fastest car on all but one of the stages, he would have to settle for third place on the podium. Second place went to ERC Ladies' Trophy winner Emma Falcon, who competed in a Citroen. Falcon had a tricky time during Leg 3, with no brakes on her car, having to rely on the machine's handbrake instead.
A debut win for Ghosh is a good sign for the Indian, who, in addition to the ERC, also plans on competing in a few rounds of the WRC, although he is yet to release details of the same.