Entries open for 2014 Maruti Suzuki Raid de Himalaya
It's that time of the year again. When men and women with petrol coursing through their veins, and nerves of steel, decide they want to put down their money and risk their lives to compete in one of the world's most terrifying motorsport events. And if you're one of these intrepid (that's a polite way of saying stark raving loony) men or women, you ought to know that entries are now officially open for the 2014 edition of the Maruti Suzuki Raid de Himalaya. The fifteenth edition of this terrifying rally-raid (on the official FIA and FIM calendar for the thirteenth year in a row) promises to be bigger, better and scarier than ever before. Not for the faint of heart, this. If you think you're up for it, read on.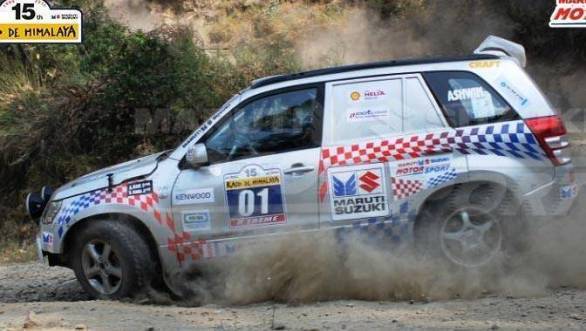 Entries are now open for the 2014 Raid de Himalaya
There are four classes in the Raid de Himalaya for 2014 - 4x4 X-treme, Moto-Quads, Adventure Trial and Moto-Quad Alpine.
The 4x4 X-treme class is the toughest there is and is only open to participants with fully modified quads, bikes or properly modified 4x4 vehicles. Of course, this class is not for novices and all competitors are required to have prior rally experience before attempting the rather daunting challenge of mixing it up with the big boys. The Moto-Quad class features fully-modified ATVs and motorcycles. While the Adventure Trial class is the best way for a novice to get the hang of the Raid in terms of terrain and a feel for the mountains in general. However, it isn't entirely a sinecure - the stress falls properly on the navigator as the rally is run in a Time Speed Distance format. For novice riders, the Moto-Quad Alpine class is the best way to learn - a crash (no pun intended) course in the Raid. The entire event is compressed into 72 short and hellish hours. If you survive this, well the motoring world is your oyster!
If you want to compete in the Raid de Himalaya, you'd better get cracking right now. Entry fees are lower the earlier you sign up for the event. Prices are available here: http://www.raid-de-himalaya.com/2014/entryfee.pdf
Entry forms for the Maruti-Suzuki Raid de Himalaya are now available and can be downloaded from http://www.raid-de-himalaya.com/