Eighth place for Chandhok and Team Murphy Prototypes at Silverstone
After pulling off four fastest laps, India's Karun Chandhok was unable to win his team a podium at the opening round of the European Le Mans (ELMS) race at Silverstone. The reason was a puncture which cost team Murphy Prototypes what seemed to be a certain podium finish. They recovered from 28th position on the grid to eventually finish eighth.
Team-mates Rodolfo Gonzalez and Alex Kapadia who drove the Nissan Oreca 03 for most of the race were unable to capitalize on starting the grid from third place. After a stop and go penalty which saw Rodolfo lose six places after just two laps, the day went from bad to worse for the Irish team as a puncture almost saw them out of the race. But the team did a quick job at the garage under manager Alan McGrity which saw Alex Kapadia who took over, return to the track in 28th position losing eight to ten minutes. Chandhok was handed the Oreca 03 for the final stint of the race and immediately drove four fastest laps which saw Murphy Prototypes finish in eighth place overall.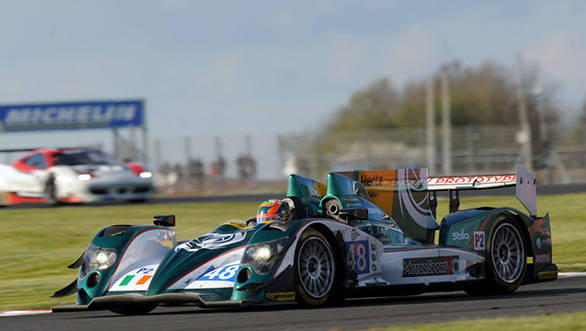 When asked about the race, Karun commented that though he was happy with his performance, although it was a very frustrating day for the team knowing that they had the pace to get a podium finish out of the race and still finished eighth. He also pointed out that the team would be looking to a better show at Imola and Le Mans after a confident show here at Silverstone.
After Silverstone, Murphy Prototypes are in eighth position with 4 points whereas defending champions Signatec Alpine picked up 10 points finishing 5th in the LMP2 category.