Eighth-gen VW Golf Clubsport premieres, with FWD, 300PS and Nurburgring-specific driving mode
Barely weeks after launching the new-gen Golf GTI, Volkswagen has taken the wraps off the Golf GTI Clubsport, the most powerful Golf yet. Power from its 2-litre turbo engine (EA888 evo4) is up to 300PS, while torque is rated at 400Nm, a healthy increase over the standard GTI's 245PS/370Nm. The Clubsport, however, will only channel that power down to the front wheels via a seven-speed DSG, while the regular GTI is also available with a six-speed manual transmission.
The Clubsport also takes VW's all-encompassing Vehicle Dynamics Manager further, tying in the front-axle locking differential (VAQ) into its purview for the first time, apart from the powertrain and optional dynamic chassis control, which should make for even sharper handling. VW engineers have even seen fit to give the Clubsport a Nurburgring driving mode profile, tuned to turn out the best lap times at the Green Hell, with everything turned up to 11, except for the dampers which are slackened off to help the car cope with the bumpy surface better.
The newest Clubsport can be told apart from a regular GTI by the deeper intakes up front, wider sills, added spoiler, a more aggressive rear diffuser and twin oval tailpipe exits, which replace the GTI's round exhaust tips. The Clubsport also sits 10mm lower, and the front suspension geometry's been tweaked for sharper turn-in.
Notably, while the Mk8 Golf GTI Clubsport is the most powerful iteration announced so far, there is a Golf R coming, with all-wheel drive, and over 330PS. If rumours are to be believed, there's even a Golf R Plus planned, with a hardcore WRC-derived powerplant with close to 400PS! Coming back to the Golf GTI Clubsport's numbers, they match the previously available Golf GTI TCR, the most powerful FWD Golf previously available. But they stand roughly 10PS short of the stripped-out road-legal special limited to 400 units, the Clubsport S, with 310PS.
Back in 2016, the first ever Clubsport S, with weight saving employed from factory, set the 'Ring record for a production front-wheel drive hatch, at 7 min 49 sec. That time was further beaten by the Honda Civic Type-R, and more recently, the Renault Megane RS Trophy R with a 7 min 40 sec lap.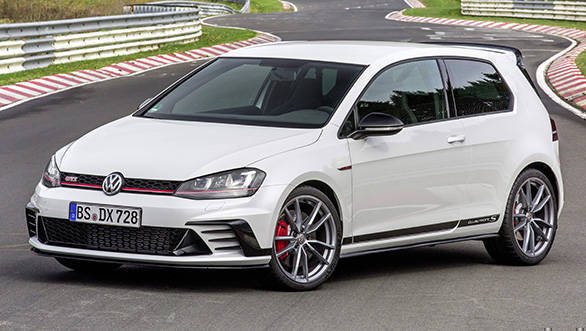 Previous Golf Clubsport S that set the 'Ring record in 2016
Price (Ex-Delhi)
Starts Rs 17.94 Lakhs