Eight things you will like about the Harley-Davidson Street 750
We have just been out riding Harley-Davidson's new Street 750 putting in just over 200km in Delhi. While there is athanks to the six months that have passed between the global reveal in Milan in November and now, this article focuses sharply on core aspects of the motorcycle and the sensations of riding it rather than its context or what it stands for amid its peers. There is a lot more to like about the Street 750 than dislike so let's start with what we liked about the new Harley-Davidson Street 750.
Eight things we liked about the Street 750...
1. The Revolution X's voice
We have already written a detailed story about the engine and its construction. The RevX doesn't start out very promising. When you're trundling through a hotel forecourt it makes more of a transmission whine than any other sound as long as the revs are low. In fact, if you read a reference to how the Street sounds like a Japanese twin, chances are the rider didn't get enough to ride the motorcycle.
At these low and middle revs, the RevX actually sounds like a honest to goodness scaled-down V-Rod
Because the action really begins once you hit 35-40kmph or in revolutions per minute terms, you cross 2000-2500rpm. Yes, there is no tacho on the motorcycle so I am intrapolating back from the 8000rpm redline. At these low and middle revs, the RevX actually sounds like a honest to goodness scaled-down V-Rod. Which, of course, in many ways it is - the two engines are both liquid-cooled, 60-degree V-twins and while one was developed with Porsche, the other was developed with AVL etc. The distinctively American V-twin sound is there though muted to meet our sound emissions.  To be fully clear, you'll hear the note a lot better if you're a Street 750 than if you are on it, something I imagine an after-market exhaust will fix.
2. The Revolution X's nature
The RevX is an extremely likeable engine. Its responses are pretty sharp and fuelling is mostly buttery smooth. It also has amazing torque and that makes crawling in first gear at very low speeds a bit herky-jerky because it is hard to make the Street inch forward thanks to the instant throttle response.
However as revs rise, your sense of control over the Harley is near-perfect in terms of the relationship between you opening the throttle and the engine responding. And it is the responding that makes the RevX just a joy. Whether you're in the mid-range or higher up close to the redline, the RevX feels effortless and never sounds strained. And it builds torque in a massive wave that means riding it around town can be handled just by leaving it in fifth or top gear for most things and rolling on and off the gas.
As a novice-friendly, non-intimidating package, the RevX is a tremendous engine because it offers you both impressive torque as well as a friendly, unintimidating power delivery.
3. Performance
You can hit that speed confidently in sixth with the needle clearly trying to climb past 180kmph if you're light
Given that the bike makes 60Nm at 4,000rpm and peak horsepower in the region of 55-58PS with about 53PS going to the rear wheel (say all the US reports), and a redline of 8000rpm, this is hardly the usual Harley. And that's obvious when you see things like a speedo maxed out at 180kmph. You can hit that speed confidently in sixth with the needle clearly trying to climb past 180 if you're light. Up to almost 140-150kmph comes up easily enough and the engine is free-revving enough to slam into the limiter without warning until you grow used to it. It makes the Street 750 - which is also the lightest Harley in the range - extremely quick through traffic and on the highway. It makes you want to enjoy the thrust in a way that only the V-Rod encourages. The Street accelerates hard, 100kmph should be in the five-six second range, and will hold a steady 130kmph down the highway confidently with only minor vibration coming through the handlebar grips.
4. The ride quality
The Street 750 is a stable motorcycle as all Harleys tend to be and a low center of gravity permits confident ultra-low speed feetup U-turns
By nature, long wheelbase motorcycles pitch less but when you add the additional requirement of a low-slung design, ride quality can be compromised. Typically, most Harleys get around this by using their usually large heft to pound road irregularities into submission. This gives them a sense of indestructibility as well as a heavy-handed sort of ride quality.
The Street 750, however, is about 42kg lighter than the Sportster, and might just be the motorcycle with the best ride quality of the whole lot. No, really. It feels a bit stiff initially and you think it won't absorb the bumps. But it slowly dawns upon you that the road seems to look worse than it feels on the Street. As it turns out, after 15-20 minutes of acclimatisation, you'll realise that the Street 750 actually rides extremely well and it absorbs bumps really well.
On our ride, there was an off-ramp with a massive trough that both the ride leader and the journalist ahead of me hit at considerable speed and a decent lean angle. I managed to avoid the worst of it, but I did note that while both had their bums come off the seat (as in big impact), the motorcycle never wavered from its line (as in good absorption).
Full credit to the supplier as well as the development team is due, the suspension setup for the Street 750 was clearly completed with a tight budget headroom but it is an effective setup that makes the motorcycle very comfortable. The question is have they made it too soft, then?
5. Handling
They have not. The Street 750's front-end isn't raked out as much as usual and despite the long wheelbase (the Super Low actually has a shorter wheelbase!), the Street corners rather well. It is a stable motorcycle as all Harleys tend to be and a low center of gravity permits confident ultra-low speed feetup U-turns. But in sweeping corners, the Street will set at as much lean as you dare with full confidence and then do the same even over overbanding and bumps. That is impressive.
6. Lean angle
You could dismiss that bit about as much lean as possible above thinking Harley's don't actually lean very far before stuff decks out. But the thing about the Street is that they raised the ride height of the motorcycle to ensure that ground clearance isn't an issue on our unpredictable roads. Turns out that releases a fair amount of cornering clearance as well. So the Street 750 isn't as easy to scrape pegs on as you think. But you can scrape them. And when you do, you feel the rubber of the pegs skimming smoothly along tarmac without thinking, "Dammit, grounded already." instead you think, "Can I lean it further?" You can, the pegs aren't spring loaded but they do fold. So you can continue to lean after the pegs have grounded and there's maybe a degree or two more of clearance until hard parts start dragging. There were a lot of corners on our ride despite (or perhaps because of) our ride being in Delhi and I can tell you that there was a lot of rubber missing from the bottom of the bikes when the Street's were returned to Harley-Davidson India.
7. The tyres
MRF deserves a lot of credit for their tyres
While Harleys do not really stress out tyres like a sportsbike might, MRF deserves a lot of credit for their tyres. I have to say that I wish MRF and Harley had worked out a different tread pattern for these tyres because it cuts the value perception of the motorcycle a bit. But that aside, the tyres work extremely well. I've seen bikes with pegs down and dust billowing off their wheels at high speed without any sign of tension or distress on the part of the rider, that's a good sign of a tyre that will work in our unique conditions.
8. The finance options
Harley has worked extremely hard to ensure that the motorcycles they sell in India come with finance options for the riders that are stretching their budgets to get a foot in the door. The Street 750 is no exception. We further like the fact that Harley includes the option of extending the loan by Rs 50,000 to purchase accessories for the motorcycle.
... and five things we didn't
As you can tell, the Harley-Davidson Street 750 proves be an extremely effective motorcycle for our conditions and in the new platform they have absolutely nailed most of the critical aspects of the motorcycle. However, it isn't perfect. To me, the stuff we didn't like, or we think should have been done better are not deal-breakers but they're all relatively minor issues that I think Harley should be able to fix without too much effort.
1. The Brakes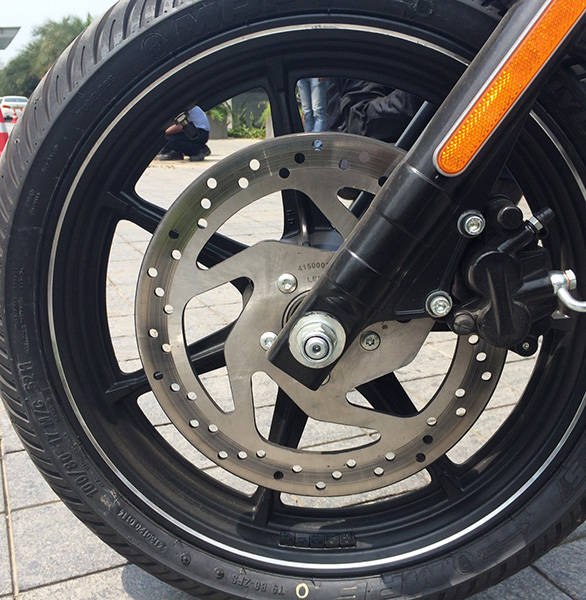 You can't really feel the front contact patch on the brakes and that means you are guessing at where the limit of traction really is and that is not a good thing for the rider
While there isn't a massive problem with the brakes, the Street's brakes are the mechanical weak link. When we test it, we expect to see stopping distances that are slightly longer than you expect. But more importantly, you can't really feel the front contact patch on the brakes and that means you are guessing at where the limit of traction really is and that is not a good thing for the rider no matter whether they are skilled and experienced or novices. I would have liked a lot more feel from the lever.
2. No ABS option
When you make a motorcycle for novices, rider aids should not be ignored. We know that Harley has ensured that the price is under the Rs 5 lakh mark on-road everywhere in India but having ridden the motorcycle and experienced the speeds it is capable of, we do believe that an ABS option should have been offered from the word go even if a large part of the customer base didn't ask for or seem likely to pay extra for it. Ideally, of course, ABS should have been standard.
3. The finish
Much has been written about this already but it bears repeating. The Street 750's finish is a bit industrial, a bit rough and ready. So you'll notice quite a bit of wiring that is visible and it isn't all neatly routed either. From a distance this isn't an issue but close up, it makes the motorcycle look untidy and unnecessary. We understand Harley are looking at fixing the finish in the future. Also visible are ugly welds at places, for example, just ahead of the side panel where they give the bike another set of untidy elements that don't really help. To me, having been on the motorcycle, I know the finish isn't going to stop me from getting a Street 750 if I were in the market, but it will be a sore point for sure. Similarly, the switchgear, which is functionally fine, also could have been executed better. Not only does it feel a few notches below the Harley standard, it also misses things like the dayflash toggle which should really be as standard as the engine kill switch on a motorcycle.
4. Not fit for taller riders
The Harleys mirrors never worked for me. For the most part they only showed my shoulders. When I was following a shorter rider, I realised that it's a rider height issue and not restricted to the mirrors either. The footpegs aren't exactly as far behind as you expect, nor are they out front like a forward-set unit might be. They're somewhere in the middle where it makes riding long distances more work than it should be. I didn't have a problem hugging the tank itself, but by the end of the ride I did have a slight ache in my calf muscles from stretching forward and down for the brakes and gear changes.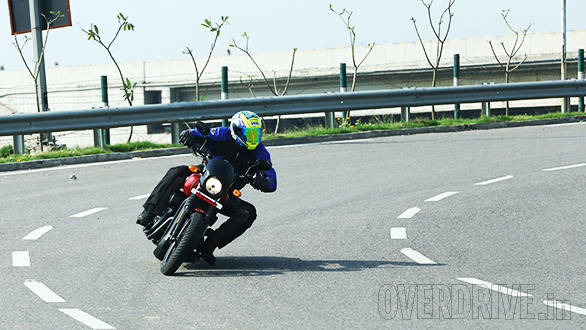 By the end of the ride, I did have a slight ache in my calf muscles from stretching forward and down for the brakes and gearchanges
Similarly, the saddle pushed me back against the curved step which meant I could feel my tailbone beginning to complain more and more seriously about four-five hours in. Harley, of course, says that their accessory line has seats, handlebars and soon mirrors that will ensure there's the right fit for everyone. The issue is all these bits have to be paid extra for. And I don't believe that's right. You should be able to get a motorcycle that fits right as standard and then accessorise to improve upon that. As it stands, if you're 5'7" or under that in height, you'll find the Street fits you just right. Any taller and you'll run into fit issues. Other journalists who were of a stature more befitting a motorcycle racer reported none of these issues, so I'm pretty confident that most Indians won't face these issues.
5. Instrumentation
The digital display should have been put to greater use with a 4-5 bar fuel gauge
There's only a meter with a speedo, warning lights and a small digital readout that shows only the odometer. While I love tachos but don't think they're required on the Street 750, I would have liked the digital display to have been put to greater use. A four-five bar fuel level readout, for example, would have been welcome.
Harley-Davidson Street 750 First Ride
Price (Ex-Delhi)
Starts Rs 5,34,000