EICMA 2019: BMW drops teaser of a new motorcycle, F 850 RS?
BMW Motorrad has shared a teaser of an upcoming motorcycle that's being ridden around twisties. To be precise there are two motorcycles that zip past the camera. The German motorcycle manufacturer has confirmed that these motorcycle(s) will be shown at the EICMA 2019 that is scheduled to take place in the first week of November.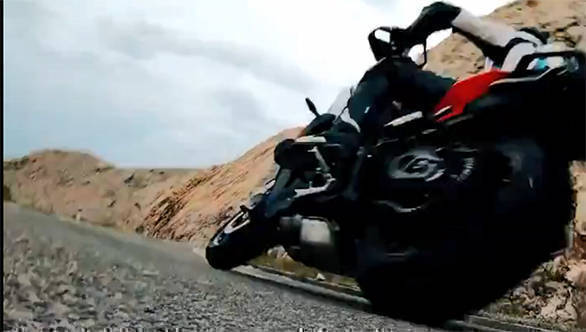 This we believe is the all new BMW F 850 RS or the junior XR to take on the likes of more road biased ADV bikes such as the Triumph Tiger XRX and the Ducati Multistrada 950. Going by the teasers, the engine note is reminiscent of a four-cylinder from the likes of an XR. This can be also observed in the other teaser which has an on-board camera. Additionally, the teaser video also shows the angled rear shock and spring which matches the patent drawings of a smaller XR/RS that were leaked earlier this year from the Instituto Nacional da Propriedade Industrial of Brazil.
The patent drawings of the BMW F 850 RS confirm that BMW Motorrad have not deviated much from the Concept 9Cento sport-tourer. However, there are some changes which have been done taking the practicality of production into consideration, as seen on most concept-production model transformations. Powering this upcoming tourer will be the same parallel-twin engine that is offered on the BMW F 850 GS. The state of tune could be altered to support the touring credentials of the motorcycle.
While it was rumoured that BMW Motorrad's upcoming offering will take its styling inspiration from the much larger BMW R 1250 RS, the patent drawings reveal that the company has taking cues from the S 1000 XR, as seen from the taller stance, tourer biased ergonomics and also the semi front faring. Compared to the concept, the fairing has been kept compact while the seat is longer and is positioned lower. Also to the side, it gets a conventional design instead of the under belly setup along with a mono-shock rear. The patent drawings, in addition to revealing the parallel-twin engine, also drop hints of 17-inch wheels and a chain drive, unlike the shaft driven setup of the R 1250 RS.
Price (Ex-Delhi)
Starts Rs 15,95,000
Price (Ex-Delhi)
Starts Rs 12,84,000