EICMA 2017: Hero MotoCorp releases second teaser image of its adventure motorcycle
The EICMA 2017 show, that starts tomorrow, will be the platform for various motorcycle manufacturers to showcase their upcoming offerings. Participating in this event is Indian motorcycle manufacturer Hero MotoCorp. The company has already released a teaser image of its adventure motorcycle and now there is a second teaser image that reveals more details on the design.
Notice the similarity between the upcoming Hero MotoCorp adventure bike and the Impulse below
2012 Hero Impulse
The second teaser image of the upcoming Hero MotorCorp adventure motorcycle is not clear, however this time around it does reveal the overall silhouette which is similar to that of the Hero Impulse. The bits that are visible is a tall positioned handlebar and fender, spoke wheels, compact fuel tank, exposed chain, front disc brake and a short wheelbase. All of which we have already seen on the Hero Impulse. However, we believe the new adventure bike might offer a lot more in terms of equipment as the segment is growing in India.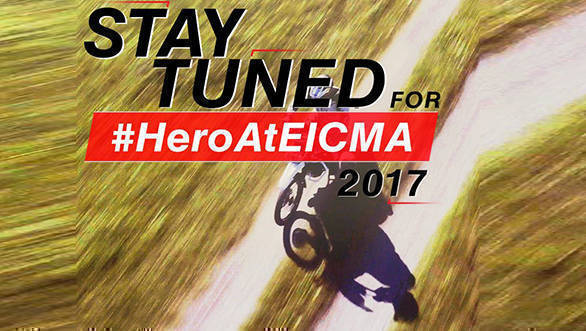 This is not the first time Hero MotoCorp is venturing into the popular segment as the company tried the same with the Impulse. However, the motorcycle, even though did click with some enthusiasts, failed to make a big impact in the country. A lack of powerful engine was seen as one of the main reasons for the low sales of Hero Impulse. Now with the new teaser, we are hoping that Hero MotoCorp comes with an all-new powerful motor along with other bits to make it a promising on/off roader. There have been speculations that the upcoming Hero bike might come with a single-cylinder 200cc unit that was showcased in the Xtreme 200S concept. The only details that one can see from the teaser image of the new motorcycle are spoke wheels, front disc brake and a taller fender. Whether Hero MotoCorp will reveal a production model or just showcase a prototype and will it get a new name or will Hero retain the Impulse model name, all these details will be revealed at the EICMA 2017 show in Milan, Italy. Stay tuned to OVERDRIVE as we will bring live updates from the motor show
Related Stories