EICMA 2015: Ducati reveals the 959 Panigale
Ducati has revealed its replacement for the 899 Panigale, the 959. This Supermid motorcycle, as Ducati calls it, uses a 955cc twin-cylinder Superquadro engine that makes 157PS at 10,500rpm and 107.4Nm at 9,000rpm. The increase in displacement is the result of a longer piston stroke which now measures up to 60.8mm from the earlier 57.2mm, while the bore remains the same at 100mm. However, despite the increase in power and torque, Ducati maintains that the service intervals for the 959 Panigale will be the same as the 899.
Ducati 959 Panigale (Euro4 spec)
Ducati has worked extensively to ensure that the 959 Panigale's engine clears Euro4 norms, making it the first Superquadro engine to do so. To reduce mechanical noise and improve efficiency to clear the Euro4 norms, the 959 Panigale uses a new cam timing chain, a Diamond Like Carbon (DLC) coating in the piston pins and a ribbed design on the two heads and aluminium top covers. The ride-by-wire throttle system controls the twin fuel injectors which join the oval throttle bodies.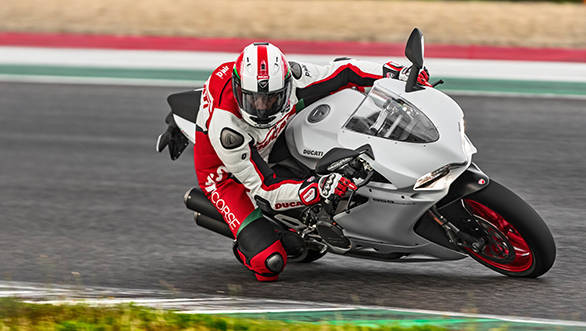 The 959 Panigale's new engine also uses Ducati's secondary air system to ensure that the fuel-air mixture is properly burned to prevent the emission of unburned hydrocarbons. Ducati has also fit a significantly longer exhaust system to reduce the sound of the motorcycle. However, the 959 Panigale is also made in a non-Euro4 specification, in which the motorcycle gets the neater underbelly exhaust like in the outgoing 899 Panigale.
Ducati 959 Panigale (non-Euro4 spec)
The 959 Panigale gets a new 'self servo' clutch mechanism that makes it easier to operate the clutch and also acts as a slipper clutch mechanism. Rider aids on the 959 include traction control, a quickshifter, engine braking control, adjustable riding modes and adjustable ABS. A black on white LCD display provides data such as the revs, riding mode selected, ABS, traction control and engine braking control settings. As an option, Ducati offers the Ducati Data Analyser (DDA), which is a plug and play device that stores all the data regarding the performance, lap times, throttle position, etc.
Price (Ex-Delhi)
Starts Rs 15,30,000