Ducati Monster 821 to replace Monsters 796 and 795
Ducati's new 112PS Monster 821 has come to India with prices starting around Rs 9.59 lakh approximately, ex-Delhi. The bike is all-new and features a smooth new engine and the full complement of Ducati's safety electronics. To be imported from Thailand under the FTA, the 821 is set to replace both the Ducati 796 and 795. The Ducati Monster 821 sales start in India in June 2015.
Ducati created the 795 as a Monster that used the 696 frame with the 796 engine to create an Asia-specific motorcycle that allowed the lower seat height and certain pricing advantages to open Ducati's doors to a whole new group of Monsteristi. Ducati considers the 795 a successful product but production of both the 795 and 796 has been stopped.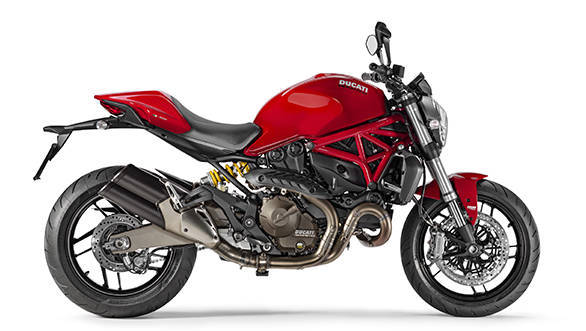 Ducati says the big advantage of the 795 was its seat height and the adjustable seat on the Monster 821 is already 5mm lower in height than that at its bottom setting. The company is also planning to sell two alternate seats that further lower the seat height another 40mm. Ducati is also adding a taller option seat to its accessory line. The company says Asia is a critical market and the concerns of the shorter Asian inseam were already accounted for in the 821's design. Thus the 821 will cover the same ground and more that the 795 and 796 used to.
Asked about the sharp differences in the prices in India, the company noted that the 796 and 795 came to India late in the (796) product lifecycle and by then it had gained certain pricing advantages that Ducati used to offer a stunning price in India. A price advantage that was squandered amidst the trouble that the Bologna bikemaker had with its Indian importer.
Now, Ducati is clear that while the Monster 821 is positioned as a premium entry motorcycle, it is still a product that comes from a super-premium brand. Which is why in India the 821 will offer significantly greater technology and performance at a substantially higher price point.
Scrambler, the new Ducati sub-brand, for which bookings have just opened in India, is set to take over from the 795, though. We expect the prices to be extremely close to the 795 when Ducati India officially reveals them. Deliveries of the Ducati start from next week. The massive price difference between the 795 and 821 is more of an Indian market phenomenon. In most markets, the Ducati Monster 795 is only €500 less. In that sense, both the Ducati Monster 795/796 are underpriced in India.
More from OVERDRIVE on the Ducati Monster 821:
Ducati Monster 821 first ride review
Image gallery: Ducati Monster 821
.
Price (Ex-Delhi)
Starts Rs 10,99,000
Price (Ex-Delhi)
Starts Rs 7,99,000