Ducati Desmosedici Stradale V4 engine unveiled
Ducati Motor today showcased their all-new road-legal V4 engine which is based on their successful MotoGP motor. The engine is expected to have its first application in the Ducati Panigale V4 superbike that will be unveiled to the public at this year's EICMA show.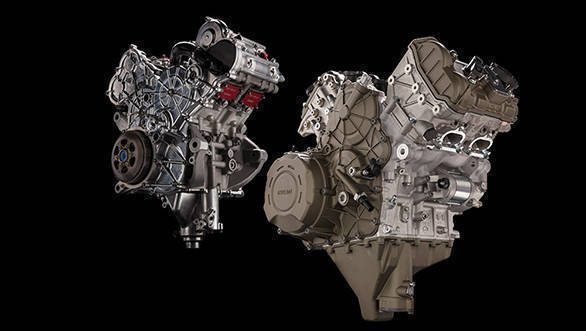 The new Ducati V4 engine makes 210PS@ 13,000rpm and 119Nm of torque between 8,750rpm to 12,250rpm
The new Desmosedici Stradale V4 as the name suggests, is a 4-cylinder and is very similar to the MotoGP engine. Ducati has kept the 81mm bore but increased the swept volume to make it a 1100cc to help with more road-going torque. The new engine makes 210PS@ 13,000rpm and 119Nm of torque between 8,750rpm to 12,250rpm. The engine can rev up to 14,000rpm and Ducati says that it doesn't need a counter balancer because of the 90-degree V-angle.  Ducati head Claudio Domenicali commented that while the company loves their V-twin engines, the reason for the change in size is to extract more power from the twins. For this they had to increase the bore which resulted in running out of room in the chassis, so the new V4 came into picture. He also added that the shape of the firing order of the new V4 has been kept very similar to the twin-cylinders to retain some of the same experience. He also specified that this engine is lighter than the older twin-cylinder unit.
For those of you racing fans, Ducati is also promising a race version that will have a 1,000cc volume but will only be out by 2019. The race bike is expected to hit the testing tracks in a couple of weeks while the road-legal Ducati Panigale V4 will be showcased at EICMA with sales opening in the months thereafter.
Price (Ex-Delhi)
Starts Rs 15,30,000
Price (Ex-Delhi)
Starts Rs 23,50,000