Ducati conducts its first DRE Racetrack Training session in India
Ducati India recently conducted its first, individual track riding training camp at the Buddh International Circuit. Called the DRE Reacetrack Training, the sessions were spread over two days. Ducati owners received individual coaching from Ducati certified instructors, Anand Dharmaraj and Gurvinder Singh. Riders who had signed up received one-on-one training and feedback which proved to be a great way to pick up the nuances of riding on a track.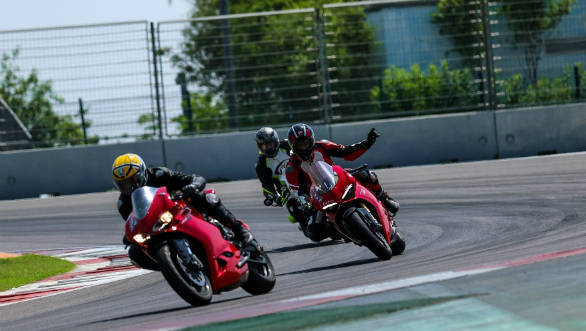 There were five sessions in all and riders were taught the correct techniques such as body position, looking up and ahead, acceleration, braking, racing line and a lot more. In all, four Ducati riders received certificates at the end of the training session.
Speaking about the new training concept, Sergio Caovas, managing director, Ducati India said The DRE individual training program is like no other currently available in India. This gives access to Ducati Owners to train individually with one trainer for the entire day. This not only gives the Ducatisti the opportunity to pick up more knowledge than in group sessions but also helps them in working on their individual weak spots during the personalized sessions. We are looking to develop motorsports in India and the same can be done by not only providing the best motorcycles for the job but also by training the Indian riders to further develop their skills to ride faster and safer. To develop the sport further in India, we will continue these training sessions over the year along with a full DRE Track day coming soon. Once riders have upped their riding skills, they will be more competitive at the soon to be held Ducati cup as well as this year's JK tyre racing championship."
Anand Dharmaraj, one of the instructors felt positive about this new step by Ducati India and believes that such training will go a long way in helping riders develop the necessary skills for riding these machines.
Ducati India plans to conduct such events in the future as well and those interested and wanting to enroll can do so by visiting the Ducati India website or its social media pages on Instagram and Twitter.