DSK Benelli Bengaluru celebrates sale of 100 bikes in three months
DSK Benelli had reason to celebrate as its Bengaluru showroom recently registered the 100th delivery of a superbike within just three months of the brand opening shop in the country - this is one of the quickest sales times recorded. DSK Benelli is the result of a partnership formed in 2014 between DSK Motowheels and one of the oldest motorcycle manufacturers in Italy, Benelli.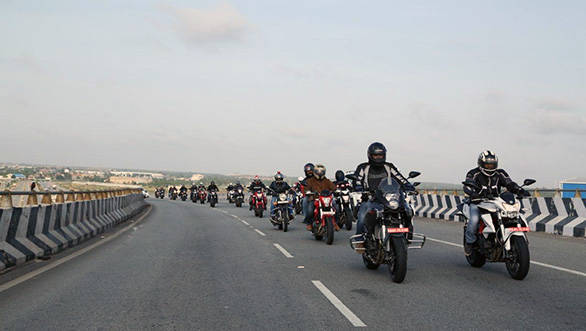 Benelli superbike owners participated in a special ride organised by DSK Benelli Bengaluru
Sirish Kulkarni, chairman of DSK Motowheels had this to say on their achievement, "Bengaluru, in recent times, has emerged as a city with a particular fondness for motorsport. Since the launch of our exclusive showroom for DSK Benelli superbikes, we have received an overwhelming positive response. The remarkable feat of achieving 100 superbike sales in three months in Bengaluru alone not only highlights the brand value and customer patronage of DSK Benelli, but also demonstrates the growing market for superbikes in India."
Shirish Kulkarni, chairman, DSK Motowheels, flags off the ride from Richmond Circle to Kolar
To celebrate this milestone, DSK Benelli in Bengaluru organised a ride from its showroom in Richmond Circle to Kolar in which all 100 DSK Benelli superbike owners participated.
More from OVERDRIVE on DSK Benelli:
What motorcycles does Benelli make
Benelli BN600i India first ride review
Benelli TNT 899 India first ride review
.