Dozens attend KTM's Orange Day in Mumbai
KTM has successfully concluded the Orange Day for its customers in Mumbai in a bid to provide them an opportunity to interact with the fellow KTM owners on a race track.
KTM has won more than 230 world championship titles in the various categories, including the consecutive 12 prestigious Dakar rally titles.
There were separate races organised for the 200 Duke and 390 Duke categories
The event was organised on Sunday, October 27, at Inorbit Mall Parking, Malad, and all KTM owners in the city were invited to participate. It started at 9.00am with the riders registering themselves for a performance session. A classroom session was then organised by an expert on how to extract the most out of their Dukes. This was followed up by a demonstration on the track and an opportunity for the riders to experience their bikes. There were separate races organised for the 200 Duke and 390 Duke categories. KTM, this time around also opened the Orange Day for other motorcycle makes and this saw six R15s and three CBR motorcycles take part. In all 57 riders took part in the event which included forty two 200 Dukes and six 390s. Podium finishers were also awarded. The event also had on display the KTM RC8 1190R. KTM parts and merchandise were also on sale.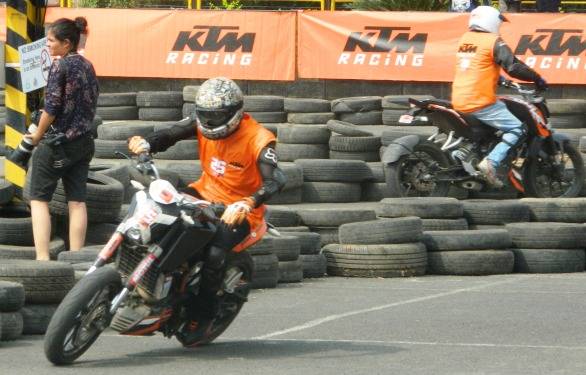 KTM Orange Day in Mumbai
"The KTM brand has its roots in racing and we want KTM owners to experience the thrills that a KTM bike can provide on a race track. Orange days are being conducted in every major city and will keep on growing in scale in the next few months. KTM is an exclusive premium brand and we are keen to ensure we provide KTM customers an experience that is uniquely KTM," said Amit Nandi, head, KTM India.
Till date, KTM has organised the 'Orange Day' inPune, Mumbai, Bangalore, Hyderabad, Ahmedabad, Noida, Chennai, Vadodara, Jaipur, Kochi and Delhi.