Does The Road Transport Minister Promise More Than He Can Deliver?
The recent accident, in which Cyrus Mistry tragically lost his life, has resulted in road safety being debated nationally, at least for now. While this is much needed, I am not sure how much good will actually come out of it. As is to be expected, within 24 hours of the accident, Nitin Gadkari our Minister for Road Transport and Highways, was on every TV channel announcing that now onwards it will be mandatory for persons sitting in the backseat to wear seatbelts, or they would be penalized. He even said, we have cameras everywhere and if we see anyone not wearing seatbelts, they will be fined. And we will be making a buzzer alarm for rear seatbelts also compulsory.
Nitin Gadkari had promised in 2014, that by 2019, he would reduce road accidents and fatalities by half. Sadly they have only increased. Image courtesy PTI.
I appreciate Gadkari's quick response and compliment him for taking such an active interest in road safety. But sadly, he often says things that are not very practical. And so many of his promises do not materialize – like the commitment he made after becoming the minister in 2014, to reduce road accidents and fatalities by half in the next 5 years.
This is a common sight in India and accidents and deaths keep increasing every year. Image courtesy EPA.
This has obviously not happened and as per the latest data released by the National Crime Records Bureau (NCRB), road fatalities in 2019 increased to 1, 54,732. And last year in 2021, we again saw a rise with more than 1.6 lakh lives being lost. The number of accidents is increasing too and from 3.6 lakh in 2020, they rose to 4.22 lakh in 2021. These findings have again prompted Mr. Minister to say, "We have set target to reduce road accidents and deaths by 50 percent by the end of 2024".
Last year we had more than 1.6 lakh people die in road accidents. And now again the minister has promised he will lower the road accident victim numbers by half by 2024! Image courtesy ANI.
Honestly I like Gadkari, and admire his desire to improve our roads and road safety. I also appreciate how unlike many others in his government, he is always smiling and laughing, and willing to talk and give answers. And this is a huge contrast from the stern demeanor of many of his fellow ministers.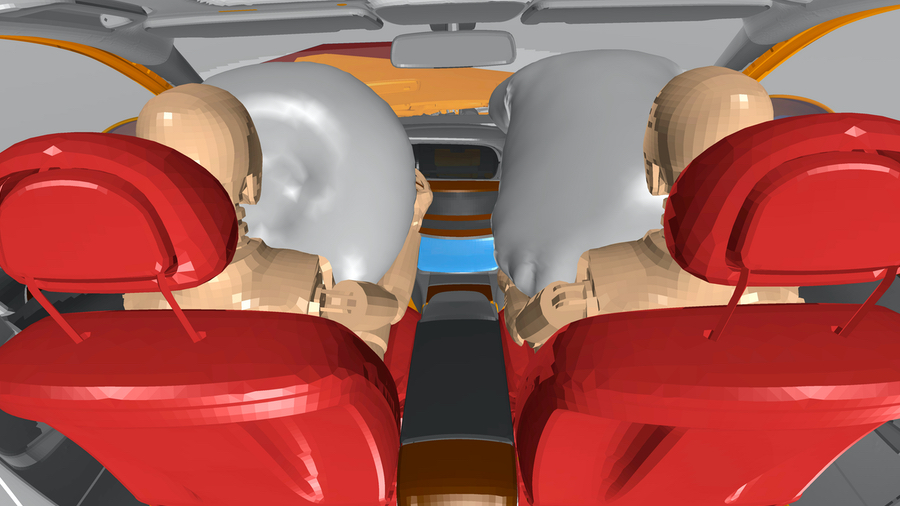 The minister has often said that fitting an airbag costs only Rs 800 to Rs 1000.
But frankly, our friendly and well-meaning minister does have a tendency to shoot his mouth off. In fact recently I read in the Times of India, that he was dropped from the BJP parliamentary board for his propensity to make "out of turn" and colourful remarks! Gadkari also has this great talent for generating headlines and making numerous claims and promises. And some are so bizarre; I can't help but wonder what he was thinking when he made them.
An airbag has many components and here is an image showing the igniter unit starting to inflate the airbag.
For example he has been all over the media saying installing an airbag in a car costs just 800 to 1000 rupees! When I asked a senior executive of a leading automaker what he thought of this, he said, "I think the minister has mistaken an airbag for those balloons used as decorations in parties!"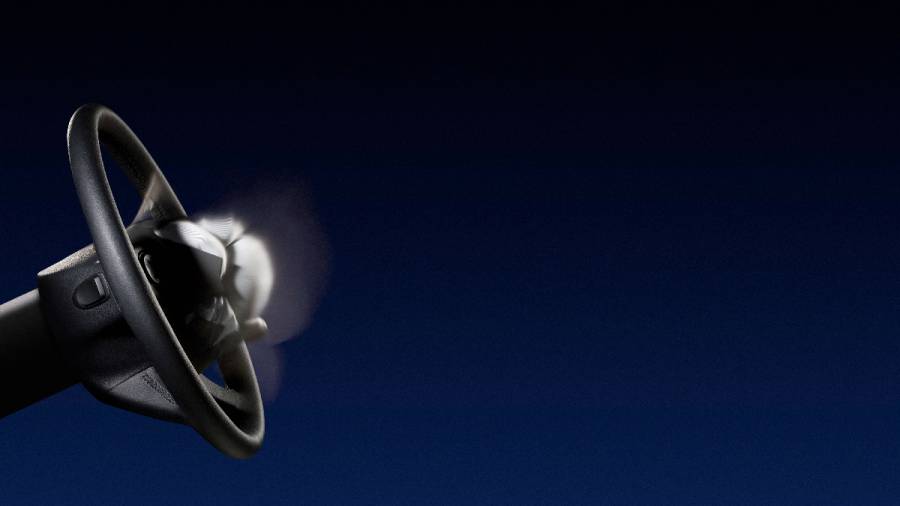 Before the airbag starts inflating, a crash sensor assesses the force of impact and accordingly instructs the airbag to inflate.
The fact is that depending on the quality, design, and specifications, an airbag can cost anywhere from Rs 5,000 to Rs 50,000 and more. Some of the ones in high end vehicles can even go into lakhs. Because an airbag is not just an inflatable bag made of woven nylon fabric. It also has various other components like impact or crash sensors, inflator or igniter unit, a SRS (supplementary restraint system indicator light), wiring and connectors, and some systems also have an on and off switch, which allows the airbag to be deactivated in certain situations, like extreme off-road driving.
Airbag systems have sensors, igniters, control modules, wiring and connectors and the car computer also has special software programs to manage and activate them.
Airbags also work in conjunction with the seatbelts and their pretensioners and this requires chips and programs to be built into the computers of the car. In the event of an accident, the crash sensor assesses the force of the impact and accordingly instructs the airbags to inflate. The inflation system or igniter of the airbag then releases chemicals like potassium nitrate for an immediate chemical reaction, which produces nitrogen gas that instantly inflates the airbag. Sorry for this detailed explanation, but I think it's needed, especially because the minister has made it appear that installing airbags in vehicles, costs hardly anything.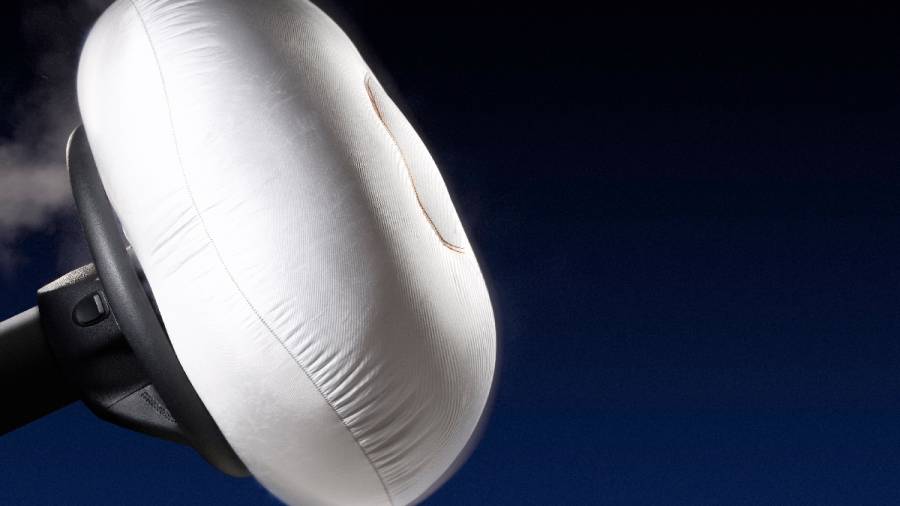 An auto industry veteran said, the minister may have mistaken an airbag - for balloons used for decorations at parties!
While I am all for fitting airbags, in my view the first priority, should be to get all rear seat passengers to wear seatbelts. Because if they don't, airbags are ineffective like we have just seen recently. Along with the seatbelts and airbags, you also need stiffer and stronger vehicle bodies to ensure that the structural integrity of the passenger compartment remains intact in an accident.
Cutout illustration of an airbag dashboard unit and its various components.
Recently, Nitin Gadkari also began a campaign for six airbags in cars with an advertisement featuring actor Akshay Kumar. Ironically, this advertisement was soon lambasted on social media for promoting the practice of dowry, which is a punishable offence in our country.
This is a typical airbag control module. With so many components, do you think an airbag costs just Rs 800 to Rs 1000?
One other thing that is wrong in this advertisement and which most people have missed, is the fact that while there is so much talk about the newly married couple sitting at the back not being safe as the car does not have six airbags, in none of the shots are the couple wearing seatbelts.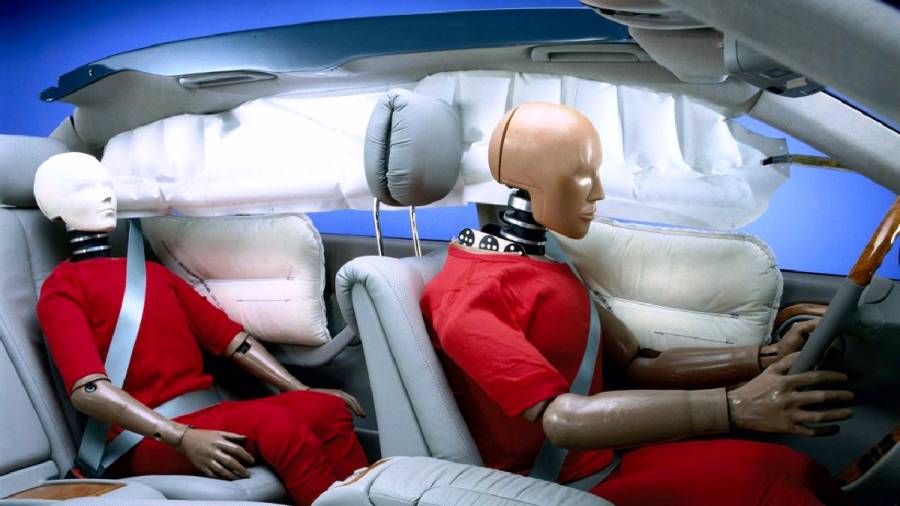 According to Nitin Gadkari, from 1st October, six airbags will be mandatory in vehicles that can carry up to eight passengers.
It can of course be argued that they are shown when the car is stationary. But in my opinion, when the advertisement is for promoting six airbags in cars, the minister should also be encouraging the wearing of seatbelts by rear seat passengers, especially when he says this is now a punishable offence.
These guys don't even have seatbelts where they are sitting. How will airbags help people like these, because they are effective only if you are wearing seatbelts?
On a more humourous note, I would love to know what you think of the promise Gadkari made in our  parliament that India's road infrastructure will be the same as that in the United States by 2024! Should we blow the horns with sounds of Indian musical instruments like the flute, tabla, harmonium, and so on, which again the minister has said he will be making compulsory in our cars. Let the music play.
Related Stories