Desert Storm 2019: Riders start 128km first stage in Bikaner
The 2019 Desert Storm, now in its 17th iteration was flagged off from New Delhi on Tuesday, May 7. The four-day event, to held between May 8 and 11, kicked off in full swing today in the deserts around Bikaner. The cross-country rally will have over 600km of special stages and 900km of transport stages. There will be 130 participants which include the who's who of the Indian rally fraternity.
CS Santosh and Gaurav Gill at the flag-off
Competitors will negotiate extreme weather conditions, tough terrains and navigational challenges around the Thar desert. The event will flag off in the deserts around Bikaner and will end in Jaisalmer. Teams are split into three categories, 34 teams (comprising of a driver and a co-driver) will compete in the Xtreme Category, eight teams (comprising of Driver & Co-Driver) in the Ndure Category, and 40 riders in the Moto Category. There will be 10 Special Stages for the Xtreme category, seven for the Moto category. The Ndure category, meanwhile, will run to a TSD format. The longest stage will be over 200km long while the first stage covers 128km.
Kabir Waraich and his co-driver
Notable entrants will be three-time APRC champion Gaurav Gill, Sandeep Sidhu, Lhakpa Tsering and Philippos Matthai for four-wheelers. For the bikes, competing will be CS Santosh from Hero Motosports Dakar squad, R Nataraj, Aishwarya PM and Imran Pasha. TVS Racing will also field a seven-person contingent including Adrien Metge, Abdul Wahid Tanveer, R. Nataraj, Rajendra RE and Aishwarya Pissay. The Indian Army team will also make a comeback. It will field ten teams in the four-wheeler category and three in the two-wheeler category.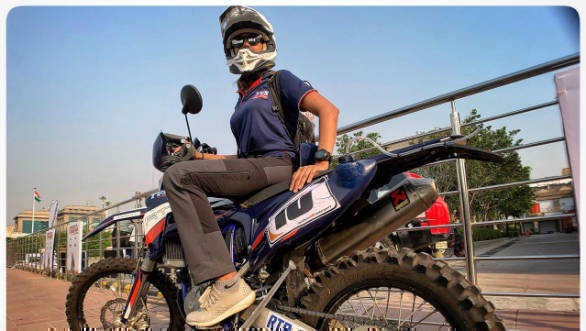 Aishwariya Pissay from TVS Racing
Speaking at the flag-off, Gaurav Gill said, "This is the most amazing line-up that I have ever seen. Almost all the top manufacturers are here which is the best thing that could have happened to the sport." Competitors will be seen in Mahindra Adventure cars, Polaris', Fortuners (first-time entry), Gypsys and Hondas.