Delhi-Meerut Expressway and Eastern Peripheral Expressway inaugurated
Prime Minister Narendra Modi and Transport Minister Nitin Gadkari inaugurated two expressways to decongest the national capital, Delhi as well as cut down the travel time to Meerut in UP. Both expressways will be built in a phased manner and the PM's motorcade drove down the first phase of the Delhi-Meerut expressway, a 9km stretch that begins from the Nizamuddin Bridge in Delhi.
Image source: PIB
The Delhi-Meerut Expressway will be built at a cost of Rs 841 crore and the first phase of the expressway will benefit motorists who travel between Noida, Ghaziabad and Delhi. The total length of the Delhi-Meerut expressway is 82km of which the first 27km is fourteen-lanes while the remainder will be six-lanes wide. The entire expressway is expected to be completed by March 2019. Once completed, the travel time between Delhi and Meerut will drop to 45mins, from the current 3-4 hours. One of the key highlights of the expressway is the Yamuna Bridge. It is India's first bridge that has vertical gardens, drip irrigation and solar system.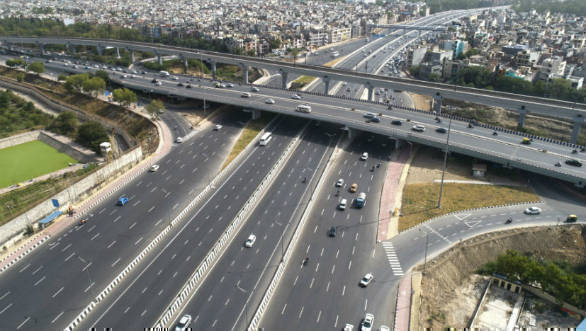 Image source: NDTV.com
The 135km Eastern Peripheral Expressway is the second expressway that was inaugurated and promises to reduce vehicular congestion in Delhi. Currently, over 50,000 vehicles criss-cross Delhi on the way to Rajasthan, Jammu-Kashmir, Punjab, UP, Haryana. The Eastern Peripheral Expressway will carry this traffic and reduce travel time by avoiding the need to traverse Delhi's congested roads. The six-lane Expressway starts at Kundli and passes through Sonepat, Baghpat, Ghaziabad, Faridabad, Noida and Palwal. It is fully access controlled with designated entry and exit points as well as interchanges. The project faced a few delays following protests from farmers over compensation. The expressway has been completed in a record, 500 days.
Like the Delhi-Meerut Expressway, the Eastern Periphery Expressway also has unique features. It is the first highway to be lit by solar power and has rain water harvesting systems every 500 metres, on either side of the expressway.