Dakar 2021: Hero MotoSports rider JRod breaks into top 10 again on Stage 6
At the halfway point of Dakar 2021 with Stage 6 done and dusted, the Hero MotoSports team find themselves well-placed to further their strong performance with no injuries between Joaquim Rodrigues and Sebastian Buhler, and the new Hero 450 Rally motorcycle proving to have the speed and reliability necessary. JRod had an especially good stage today, through over 300km of exhaustive riding in the dunes, finishing the stage in 8th spot, a mere 4min 35ec behind the leader. Teammate Buhler finished the stage in 21st, barely 15 minutes behind showing how closely stacked the top riders are.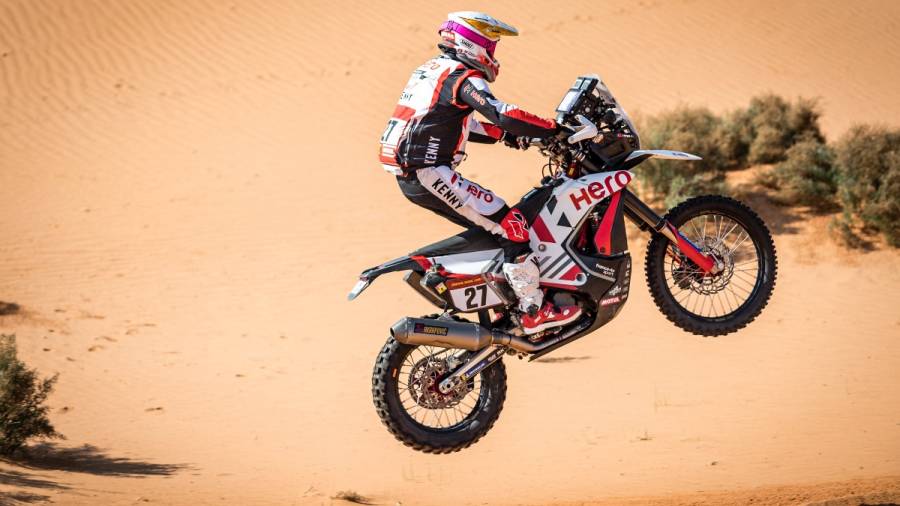 After a gruelling Stage 5 which saw several competitors reach the bivouac in Al Qaisumah late in the evening, if at all, being the stage with the highest number of withdrawals so far, the organisers decided to defer the start of the stage by 1.5 hours and shorten the competitive part of the stage by 100km. Competitors now have a rest day in Ha'il to steel themselves for the second half of the Dakar rally, always the toughest part with six more days of battering to endure before making it back to Jeddah. 
The Hero MotoSports team has a lot to look forward to though, with team manager Wolfgang Fischer commenting, "We are happy to arrive today at the Ha'il bivouac after six days of challenging stages. Besides being relieved to get a much-needed rest day, we are also very happy to hear that the head injury of our mate CS Santosh should recover well. We are all confident that he will fully recover soon. In terms of performance, our new bike has delivered a flawless performance and has arrived at the half-way stage successfully. Both our riders have also gained in confidence with every stage and are enjoying themselves. We are now looking forward to the rest-day to prepare ourselves for another six long stages of racing. Hope to see both our riders at the finish line at Jeddah and Santosh in a good condition."
Also read, 
Dakar 2021: Stage 5 sees Hero MotoSports riders move into top 20 overall