Dakar 2020: Stage 5 sees Metge leads the way for Sherco TVS yet again
The Sherco TVS Rally Factory Team's riders appear to be quite comfortable within the top 20 places during the 2020 Dakar Rally. This is in evidence from the fact that they seem to hover within the top 20 repeatedly. The latest example of this fact could be witnessed during Stage 5 of the rally, with the team's top three riders Lorenzo Santolino, Johnny Aubert and Adrien Metge occupying 15th, 16th and 17th place respectively.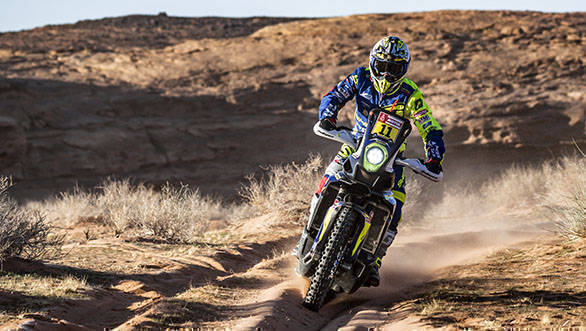 Adrien Metge continues to hold 11th place overall after Stage 5 of Dakar 2020
Santolino completed the 353km special (211km liaison) between Al-Ula and Ha'il in a time of 4h 13min 21sec. This means that the Spanish rider, who races with the competition number 24, moves to 15th in the overall standings.
Lorenzo Santolino is classified 15th overall after five stages of rallying
Johnny Aubert took 16th position in the stage, and was just 19 seconds behind team-mate Santolino at the end of the stage. This means that Aubert is now ranked 16th overall, once again just behind Santolino.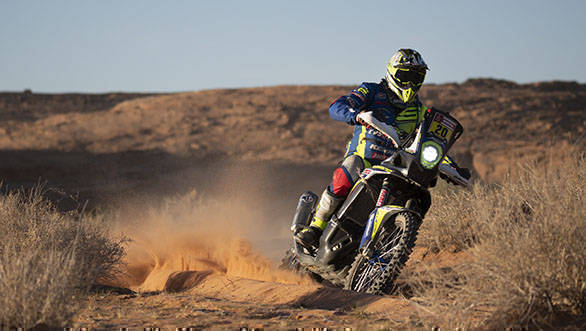 16th overall for Johnny Aubert after five stages in the 2020 Dakar
However, the man who has been the most impressive all through the 2020 Dakar has been Adrien Metge. The Frenchman who has ridden for Sherco TVS in the past wasn't part of the team's 2020 Dakar lineup. However, he was a last-minute replacement for his injured brother Michael Metge. Nonetheless, Adrien has managed to be consistent, and ended the fifth stage of the rally 17th. This puts him 11th overall. With a couple of more strong performances, Metge could very likely break into the top 10 overall.
Harith Noah finished Stage 5 of the 2020 Dakar in 37th position
Indian fans will be pleased to know that Harith Noah has continued his impressive run during Dakar 2020. Despite the fact that he isn't part of the overall classification (since he was unable to start Stage 3, he is now running as part of the Dakar Experience class) Noah is soldiering on. He managed a 37th position in Stage 5, which is impressive considering this is his very first outing at the Dakar.
Stage 6 will take competitors from Ha'il to Riyadh for the rest day, during which they will get a much-needed break before embarking on the second half of Dakar 2020.