Dakar 2020: Sherco TVS Racing's Adrien Metge ranked 12th overall after Stage 11
The 2020 Dakar Rally in Saudi Arabia has nearly come to an end. And the Sherco TVS Racing Team has bravely soldiered on, despite the many hurdles that have been thrown their way. That is not to say that the team isn't somewhat diminished. Of the four riders who started the event, only one rider remains in contention for an overall position - Adrien Metge. And Metge has been consistent all through the rally, managing to break into the top 15 overall, and seeming like he plans on staying right there till the very end.
Adrien Metge has proved to be Mr. Consistency for the Sherco TVS Racing outfit at the 2020 Dakar Rally
During Stage 10 of the Dakar, Metge only finished 29th, which meant that he retained 12th place in the overall standings. That is a position that he retained even after the 11th stage of the rally, which headed from Shubaytah to Haradh, covering a total distance of 744km. Metge finished Stage 11 in 16th position.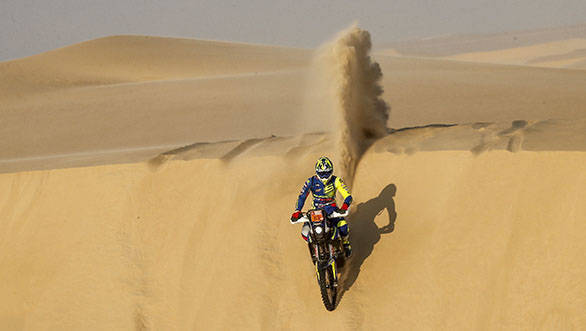 Harith Noah tackling the sand dunes during Stage 11 at Dakar 2020
The only other rider from Sherco TVS Racing who is still riding in the 2020 Dakar, albeit in the Dakar Experience Category, is India's Harith Noah. Noah's first attempt at the Dakar has been eventful, to say the least. After a crash on the first stage of the rally left him with an injured eye, and a motorcycle that had a damaged navigation tower, Noah still managed to make it to the end of the stage. He was given the go-ahead and raced during Stage 2 as well, but when his motorcycle failed to start during Stage 3 of the rally, he had to sit that stage out. This means that while he his results don't count in the overall timing sheets, he still has been managing to ride everyday and gain experience during the Dakar.
And to be fair to Noah, he's been doing a good job of things. During Stage 10 of the Dakar, he finished 32nd. And in Stage 11, he managed to move up to 25th, his best stage finish of the entire rally. His performance thus far proves that he really is a rider to watch out for.
The final stage of the Dakar 2020 traverse 429km from Haradh to Qiddiya, where the rally concludes.
Read more about Sherco TVS at the 2020 Dakar here: 
Indian rider Harith Noah part of Sherco TVS's Dakar 2020 ride lineup
Interview: Sherco-TVS Rally's Harith Noah on his journey leading up to the Dakar 2020
Dakar 2020: Michael Metge drops out due to injury, Adrien Metge to replace him
Dakar 2020: Sherco TVS rider Adrien Metge ranked 15th after Stage 1
Dakar 2020: Harith Noah makes impressive recovery to end Stage 2 52nd
Dakar 2020: Sherco TVS' Adrien Metge ranked 12th overall after Stage 3
Dakar 2020: Sherco TVS' Adrien Metge moves up to 11th overall after Stage 4
Dakar 2020: Stage 5 sees Metge leads the way for Sherco TVS yet again
Dakar 2020: Sherco TVS' Adrien Metge retains 11th overall after Stage 7
Dakar 2020: Sherco TVS Racing's Adrien Metge moves to 12th overall after Stage 9