Dakar 2020: Sherco TVS Racing's Adrien Metge ends the rally 12th overall
Sherco TVS Rally Factory rider Adrien Metge finished the 2o20 Dakar Rally in 12th place overall. The French rider finished the rally's 12th stage in seventh place. Metge has been the team's most consistent rider, and his fifth appearance in the Dakar was his second-best finish in the rally. Metge ended 11th at his first attempt at the Dakar in 2016.
Speaking of his performance at the Dakar, Metge said, "I am happy that I got a chance to participate at the Dakar Rally this year and extremely humbled about my result. Saudi Arabia is a very beautiful country with a variety of terrains to ride on, which makes for a nice rally experience. It was quite a long one and I made my share of navigational mistakes from time and again however, I was able to perform well on my motorcycle which glided through all these terrains with ease. Lastly, I would like to thank the team for keeping the spirits high throughout."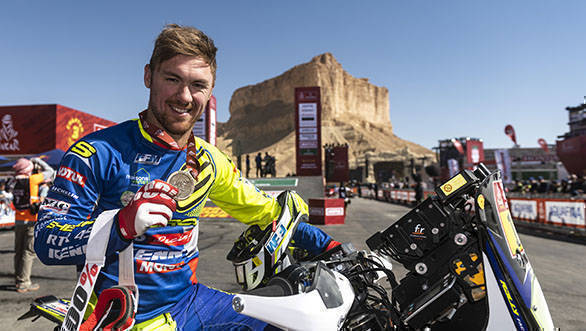 Also performing very well at the 2020 Dakar was Indian rider Harith Noah, who put in a strong showing during his first ever attempt at the event. Harith suffered a crash on the first stage of the rally, and then did very, very impressively during the rally's second stage, moving up 45 places in one stage. However, when his motorcycle didn't start on the rally's third stage, he had to sit the stage out, which relegated him to the Dakar Experience class. Noah ended Stage 12 in 27th position, however his most impressive stage finish was Stage 11, where he finished 25th.
Speaking of his performance during his first ever Dakar, Noah said, "I can definitely say that these were the longest and hardest two weeks. I can't say that I completed the rally, however, I did complete every stage but one, under Dakar Experience Class, so it's definitely something good to take home. I had a great experience despite not knowing what to expect or what not to expect, which also provided me with some great learnings every day. I made a navigation mistake and had a bad crash during Stage 1 which was a big learning in itself. I rode better from then on, and will be much better prepared for next year."
Meanwhile, B Selvaraj, Team Manager, TVS Racing said, "I would like to congratulate each of our riders for the camaraderie that they demonstrated through the Rally. Adrien put his experience into apt use which reflected in his steady performance chart from the start till the end, thereby helping him finish at a remarkable ranking. I would also like to congratulate Harith for his outstanding performance in his first Dakar Rally experience. Despite not being eligible for general ranking, Harith completed every stage at notable ranks. While Lorenzo and Johnny couldn't continue their Rally due to injuries, I would like to extend our heartfelt gratitude for their performance during the Dakar Rally 2020."
The 42nd Dakar Rally, which took place in Saudi Arabia, was the Sherco TVS Rally Factory Team's sixth consecutive year of participation in the event.