Dakar 2020: Sherco TVS' Adrien Metge retains 11th overall after Stage 7
The Sherco TVS Rally Factory team has had a strong outing in the 2020 Dakar thus far, and the man leading the way for the team through most of the rally has been Adrien Metge. The French rally raid rider might have been a last minute replacement for his injured brother Michael Metge at the 2020 event, but he quickly set about establishing himself as the one to watch out for. And stage seven of the rally was no different.
Adrien Metge continues in 11th place overall after Stage 7 of Dakar 2020
Over the course of the 546km special, with an additional 195km of liaison, it was Metge who once again stood out. He ended the stage 13th, which allowed him to retain 11th position overall. Metge had also finished Stage 6 in 12th position, although he was later given a 15 minute penalty that pushed him down to 22nd. "Today's stage was long but I was able to keep up by maintaining consistent speed. The rest day gave me a good time to relook at my strategy, I look forward to the rest of the stages," Metge said.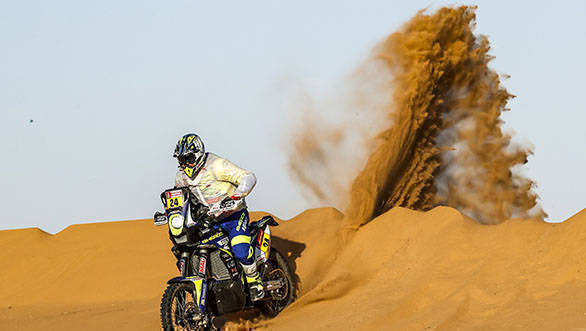 Lorenzo Santolino is ranked 16th overall after seven stages of rallying at the 2020 Dakar
Meanwhile, Lorenzo Santolino finished the Stage 7 in 15th, which puts him 16th in the overall rankings. "It was challenging to maintain speed and skill while riding through the dunes. I am glad to have finished the stage on time," Santolino said.
Metge and Santolino are the only two riders of the Sherco TVS team who remain in contention for a spot in the overall standings of the 2020 Dakar. The team's third rider, Johnny Aubert, had an unfortunate, if eventful, Stage 6. He had throttle cable issues 20km into the stage, and was able to swap cables with his team-mate Harith Noah, who showed up and found him parked by the side of the road. He managed to ride well the rest of the way, but had an accident towards the very end of the stage. Aubert has since had surgery, and is reported to be recovering well.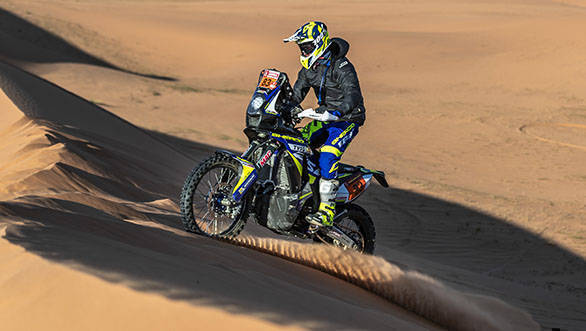 Harith Noah took P33 in Stage 7 of the Dakar
Meanwhile, Noah who is competing in the Dakar Experience category after he was unable to start the third stage of the rally, has also performed well. The Indian rider has put in impressive performances all through, including a P33 finish in Stage 7.
It was, however, a very dark day for the Dakar, with the death of Hero MotoSports rider Paulo Goncalves. Following his passing, the organisers of the event have cancelled the eighth stage for motorcycles and quads.