Dakar 2020: Sherco TVS' Adrien Metge moves up to 11th overall after Stage 4
The Sherco TVS Rally Factory Team is moving from strength to strength at the Dakar 2020. During Stage 4 of the event, which ran from Neom to Al-Ula, the team's riders performed strongly. While it was Johnny Aubert who led the way in Stage 4, finishing seventh in the stage, Adrien Metge continued climbing up the order, taking an 11th place overall after the four stages of the rally.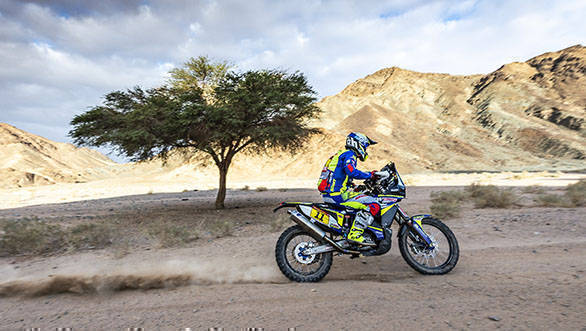 Adrien Metge moves to 11th overall after Stage 4 of the Dakar
Adrien Metge might only have finished 15th in Stage 4 of the event, but that was enough to help him climb one spot in the overall rankings. The Frenchman, who is a last minute entry from Sherco TVS where he replaces his injured brother Michael Metge, was ranked 12th overall after Stage 3, and has now gone one better to be classified 11th overall.
"Everyday we are riding on different kind of terrains and it's only becoming more challenging with every stage. The aim is to ride through the upcoming stages by carefully using my experience and safely scaling the routes. I am looking forward to Stage 5 as it is less technical, and more inclined to navigational skills," said Metge after the rally's fourth stage.
Lorenzo Santolino is currently ranked 14th after four stages of the 2020 Dakar
Lorenzo Santolino managed a 10th place finish in Stage 4, which puts him 14th overall. And Aubert, who was the best-performing Sherco TVS in the stage with his 7th place finish, is ranked 16th overall.
Johnny Aubert stormed to seventh place in Stage 4 of Dakar 2020
Indian rider Harith Noah managed to restart the rally under the "wildcard" rules of the newly introduced "Dakar Experience" category. This means that even though he can't compete for a spot in the overall standings, he is allowed to ride every day, gain experience, and find out where he slots in the stage rankings. Harith, who started at the very back of the pack for Stage 4, managed to end the stage classified 47th - an impressive performance indeed.