Dakar 2020: Kamaz driver Andrey Karginov wins title in truck category
It was yet another victory for Kamaz at the Dakar Rally. Victory at the 2020 Dakar went to the team's driver Andrey Karginov. It was Karginov's second win at the toughest rally-raid endurance event in the world, after having won the title in 2014.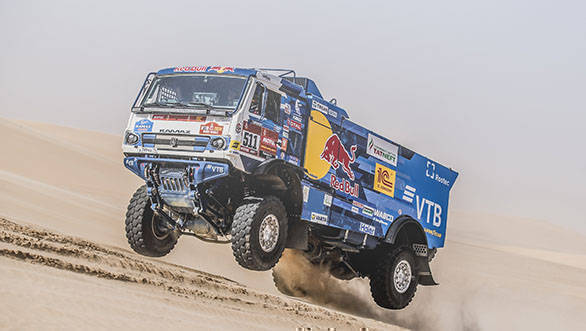 Andrey Karginov en route his second Dakar win at the 2020 edition of the event
Karginov led a 1-2 finish for the Russian truck manufacturer, with his team-mate Anton Shibalov finishing the event second overall. With team-mates Eduard Nikolaev (an engine issue on Stage 5) and Dmitry Sotnikov (hit a rock on Stage 3) facing issues early on in the rally, it fell to Karginov and Shibalov to fend off attacks from Siarhei Viazovich in the MAZ.
Andrey Karginov and Anton Shibalov (RUS) of Team KAMAZ-Master are seen at the podium of Rally Dakar 2020
Karginov won the rally a full 42 minutes ahead of Shibalov, with Viazovich finishing third.
Ignacio Casale claimed his third Dakar title in the Quad class
In the Quad category, it was victory for Ignacio Casale yet again. The Chilean rider claimed his third Dakar win, after a one-year break from the category - he competed in the SxS class last year. Casale got off to a good start at the 2020 edition of the event, and managed three stage wins during the first four stages of the rally. He then had a minor scare on the tenth stage, during which he got lost, and had his lead slashed by a considerable margin. However, a strong performance on Stage 11, saw him head into the final stage of the rally with a 21min lead over his nearest rival, Simon Vitse. He eventually won the rally with a 24 minute lead over Vitse, who had to be content with second place. Third place at the event went to Polish rider Rafal Sonik.
Ignacio Casale flanked by Simon Vitse and Rafal Sonik on the Quad podium at the 2020 Dakar
American driver Casey Currie took the title in the SxS class in only his second attempt at the Dakar. He finished ahead of Sergei Karyakin and third-placed man, defending champion, Francisco Lopez Conrtado.
Francisco Lopez Contardo (CHL) and Juan Pablo Latrach Vinagre (CHL) of SSV South Racing Can-Am team took third place in the SxS class of Dakar 2020