Dakar 2020: Stage 8 cancelled for motorcycles and quads following the death of Hero MotoSports rider Paulo Goncalves
The tragic death of Hero MotoSports rider Paulo Goncalves after a crash during the seventh stage of the 2020 Dakar has left the entire bivouac in shock. Goncalves was a hugely talented rider who was very well liked by everyone in the Dakar family. As a result of his death, the organisers of the 2020 Dakar have decided to cancel Stage 8 of the rally for motorcycles and quads, in order to allow the rest of the riders to come to terms with this loss.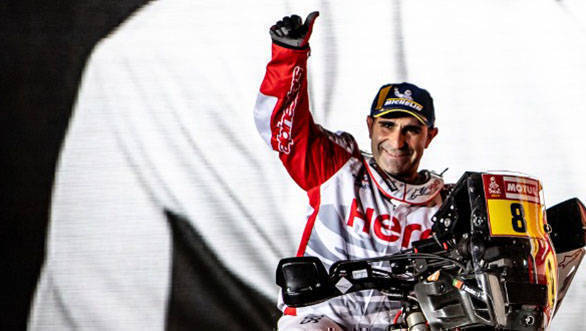 Paulo Goncalves (1979-2020)
Goncalves crashed 276km into the special stage, and was first found by riders Toby Price, Stefan Svitko, and eventual stage winner Kevin Benavides, who stopped and tried to help resuscitate him. He was then airlifted to a hospital, where he his unfortunate passing was confirmed. The entire Dakar family came together to pay tribute to Paulo at the briefing in Wadi Al-Dawasir. Tomorrow, the cars, SSVs and trucks will do the loop around Wadi Al-Dawasir, while the motorcyclists and quads will get time to attempt to recover mentally from the day's tragedy.
CS Santosh took a 32nd place finish during a difficult day for the Hero MotoSports team
It was an extremely hard day for the Hero MotoSports Team Rally outfit following Goncalves' passing. The only rider from the team who is still in contention for an overall finish at the Dakar is Indian rider CS Santosh who finished the stage 32nd, and is currently ranked 35th overall.
Wolfgang Fischer, Head – Hero MotoSports Team Rally said of Paulo's passing, "Words cannot describe our shock and loss at this moment. It isn't just a team, it is a family for us and we are devastated with the passing away of one of our members, Paulo Goncalves. He joined the Team in April last year and within no time became an integral part of the Hero MotoSports Team family. He will be dearly missed and always be fondly remembered by us. Paulo was a true champion, gentleman, reliable friend to everyone in the racing world and a role model as sportsman and personality. We extend our deepest condolences to his family and friends."