Dakar 2019: Oriol Mena continues strong form, CS Santosh crashes out on Stage 5
The fifth stage of the 2019 Dakar Rally proved to be one of the toughest stages yet. Several competitors got caught out, and there were crashes aplenty, unfortunately even for the Hero MotoSports Team Rally riders.
For the team, the first incident of Stage 5 occurred between waypoints 4 and 5, with CS Santosh suffering a nasty crash, unable to continue to ride to the end of the stage. The Indian rider was airlifted to a hospital in Tacna, where he is being treated for injuries. It is unfortunate that Santosh's fifth attempt at the Dakar ended prematurely, even while he was putting in strong performances along the way.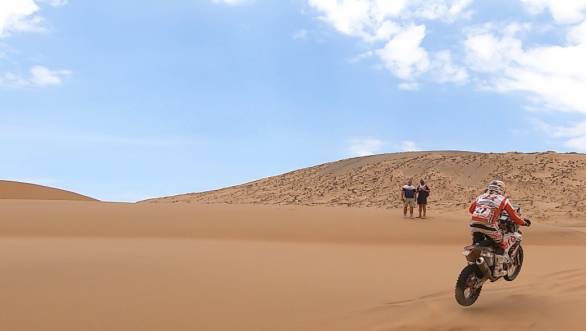 Oriol Mena airborne on his way to 12th overall in the Moto class after five stages of Dakar 2019
The going wasn't much easier for Oriol Mena and Joaquim Rodrigues, with both riders crashing a few times. Mena, who has been the highest placed Hero rider thus far at the 2019 Dakar, had a particularly bad crash, and lost his bearings for a while after the episode. However, he somehow managed to continue riding and made it to the finish line 16th in the stage. This enabled him to retain 12th place overall in the Moto class.
Speaking of a tough day of rallying, Mena said, "The beginning was really nice and easy with comfortable riding. But then at around 268km, I think I hit a stone and had a massive crash. But it's the Dakar and these things happen. Most important this is that I am ok and happy to be back with the team. Really sad to hear about Santosh crashing out. Important thing is that he is ok and I wish him a speedy recovery."
Despite crashing, the team's third rider, Joaquim 'JRod' Rodrigues managed to gain positions and finish the fifth stage in 18th position. This means that JRod has managed to move up three places, and is ranked 28th overall in the Moto class.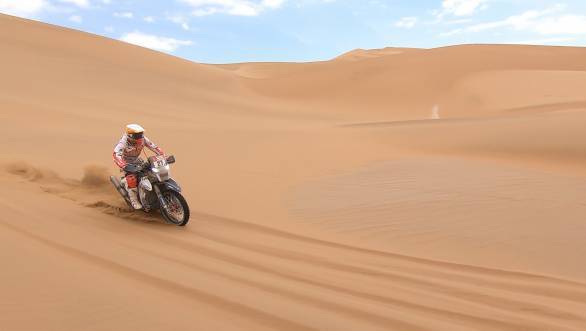 Joaquim Rodrigues has broken into the top 30 in the Moto class after Stage 5 of Dakar 2019
"It was an extremely tough and dangerous stage today with a lot of fesh-fesh and hidden away stones. With everyone going full out all the time, it made visibility very poor for the guys riding at the back. The dunes were also very difficult to cross. One of them was so big that I had to go up and down a few times to gain enough momentum and even then I barely made it to the top. I also crashed twice and hurt my shoulder a bit but managed to pick my bike up and ride it to the finish line," said JRod. The Hero rider also conveyed his best wishes to teammate Santosh for a speedy recovery, while also saying of the incident "it was just one of those stages where keeping yourself safe was a full task in itself".
JRod in action on Stage 5 of Dakar 2019
Both the remaining Hero riders now have a solid position in which to start Stage 6 of the rally, and can put behind them the fesh-fesh, dunes, and hidden rocks of the treacherous Stage 5.
The competitors in the 2019 Dakar now get some respite, with the rest day allowing them to recharge and gear up for the upcoming stages that progress back towards Lima.
Meanwhile, team manager Wolfgang Fischer said, "It was quite a difficult day for us with the news of various crashes coming out from the stage. Santosh had a nasty crash and he couldn't continue. It is quite sad because he was probably riding his best Dakar yet. At the same time we are happy that he is doing ok and currently getting the best medical care possible. Mena and JRod too had scary crashes but we are quite happy that both of them somehow made it back to us. We would like to thank all our fans and supporters for the kind wishes they have been sending for the safety of our riders."