Dakar 2018: Walkner leads motorcycle class, Sainz leads in cars after Stage 10
As was expected, the 2018 Dakar Rally is progressively getting tougher now that competitors are in Argentina. The 10th stage of the rally saw the biggest upset yet, with favourite Adrien van Beveren crashing out of the rally, dashing all hopes of a Dakar win. The Frenchman suffered a broken collarbone, as well as injuries to his spine and thorax, which meant that continuing in the Dakar would be impossible.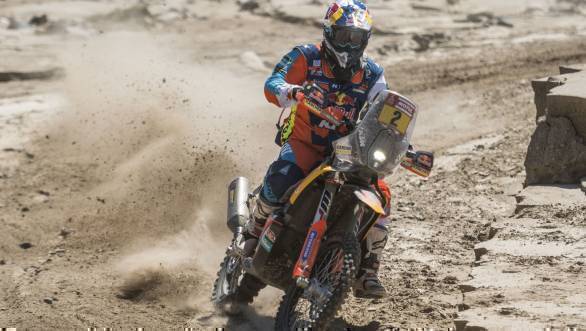 Matthias Walkner (AUT) of Red Bull KTM Factory Team races during stage 10 of Rally Dakar 2018 from Salta to Belem, Argentina on January 16, 2018
With Kevin Benavides, Joan Barreda Bort, Toby Price and Antoine Meo all losing time on the stage, after getting lost, the stage victory went to KTM's Matthias Walkner. This also promoted the Austrian rider to overall lead in the motorcycle category, with a gap of over 39 minutes to second-placed Barreda Bort.
In the cars category, it was Peugeot's Stephane Peterhansel who took the stage win, head of Toyota's Giniel de Villiers. Peterhansel's team-mate Carlos Sainz finished the stage 3rd, and also incurred a 10-minute penalty for a clash with a quad. Quad rider Kees Koolen has threatened legal action against Sainz, with the pair now engaged in a he-said he-said about whether or not contact took place between their two vehicles on the stage between La Paz and Uyuni.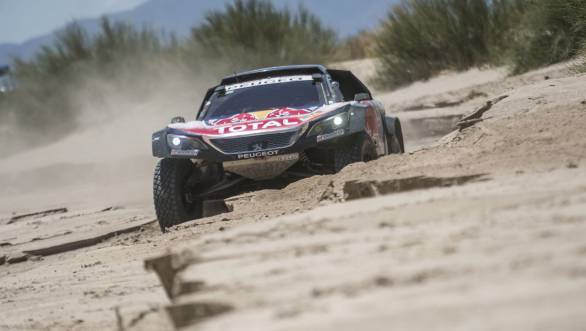 Carlos Sainz (ESP) of Team Peugeot Total races during stage 10 of Rally Dakar 2018 from Salta to Belem, Argentina on January 16, 2018
Sainz, however, still leads the overall standings in the car category, ably assisted by team-mate Cyril Despres, who with no hopes of winning the 2018 Dakar himself, is now playing a supporting role within the Peugeot outfit. Peterhansel is now ranked second overall, with Toyota's Nasser Al-Attiyah third overall.
In the Quad category, it was Nicolas Cavigliasso who finished first in Stage 10, although Ignacio Casale still holds the overall lead. Ton van Genugten took Stage 10 victory in his Iveco, while Eduard Nikolaev only finished fourth in his Kamaz. However, Nikolaev still leads the standings. Leading the SxS category after 10 stages of the Dakar is Reinaldo Varela.