Dakar 2018 Part 1: Going for broke
Halfway there
La Paz, Bolivia
11.01.2018
"I can't say I've had this much fun riding in the Dakar all these years."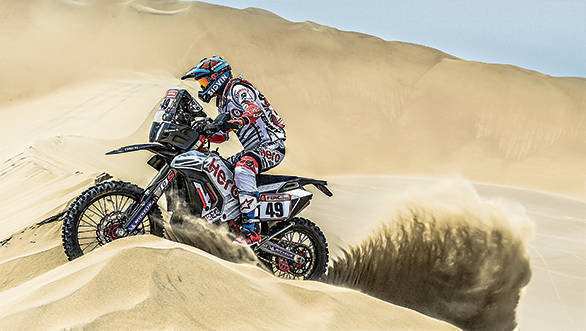 CS Santosh tackling the dunes at the 2018 Dakar
It's not exactly what I'm expecting to hear from CS Santosh. Certainly, not at that particular point. Not after I've seen him emerge from the Hero MotoSports Team Rally van at the bivouac at La Paz looking slightly worse for the wear. In fact he looks like the pictorial representation of the word 'knackered' as he begins to limp his way to the cafeteria for what will be his first real meal in hours - a bowl of pasta, an empanada, a slice of watermelon and some hot tea.
The cold at La Paz, Bolivia is being battled by a slice of watermelon, some hot tea, an empanada and some pasta
Outside the cafeteria, La Paz is cold and dreary. The steady drizzle has made life difficult for competitors and crew alike. Riders have entered the bivouac only to be told that their teams haven't arrived yet, many still stuck in traffic in the world's highest capital. The city has been thrown into chaos as protesters have taken to the streets in order to protest a prospective oil line between Bolivia and neighbouring Peru and Chile.
Santosh, in this particular case, is lucky. He isn't one of the riders left out in the cold, searching for their team tents. His team is already there. He's managed to change his clothes, and beneath his Hero MotoSports Team Rally pullover, he's got a bionic suit on. It's meant to keep him warm as he's riding through the bitter cold in Bolivia. It's helped to a certain extent, but like he tells us, once water seeps into your clothes, that's it. "I'd trade the cold for the heat any day," Santosh says, telling us that he's looking forward to Argentina, where he says the weather and the stages are nicer. He can't wait to "get the hell out of Bolivia". It's a sentiment that a lot of competitors agree with. Well, the riders, who are exposed to the elements certainly do. The car guys, Santosh says rather enviously, have it easier. It's something he became acutely aware of as he navigated the long Stage 6 in the rain. The temperatures have dropped to around 5 degrees, making the going very hard indeed. The weather's been no friend to the riders.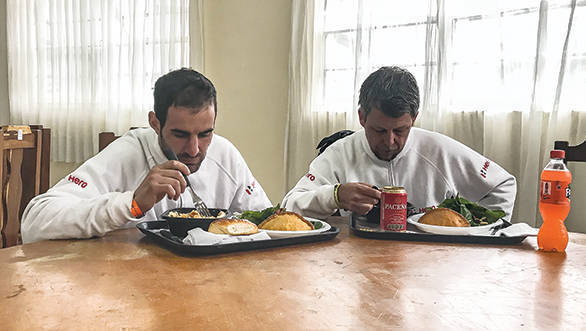 Oriol Mena (left) has impressed on his very first Dakar outing. Team Manager Wolfgang Fischer (right) told us as much when we caught up with him.
Approximately half an hour before we sit down with Santosh, we speak with his team-mate Oriol Mena. The Spaniard is Hero MotoSports Team Rally's surprise package at the 2018 Dakar. The 2009 Junior World Enduro Champion has really come through though, delivering strong performances in every stage of the rally, that too on last year's motorcycle. He's broken into the top 10 twice, finishing 10th on the third stage and 11th on the fifth stage. Stage 6 from Arequipa to La Paz has been tough on him, like we said before, the weather's been wicked. But Mena's still managed to finish 22nd.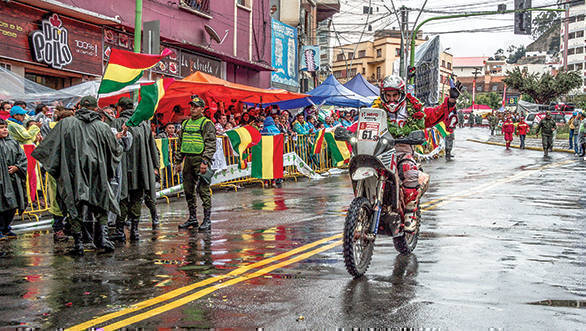 Despite the rain the crowds turned up to cheer on the riders - here's Mena on his No.61 Hero Speedbrain machine.
The minute he gets off the motorcycle at the bivouac, a couple of TV cameras are upon him. He does his interviews as best as he can, but he's soaked through to the bone. The team tells us that he isn't feeling very well, and he's frozen through. I'm sure it's a relief, then, to have the luxury of a hot shower, a good meal, and a comfortable bed in a proper hotel room for the night - rest day at La Paz is upon the Dakar, after all. Before he manages to leave to the hotel though, he's wolfing down some lunch and talking about his performance in the rally thus far. Even with his spectacular performances in the Dakar, Mena comes off as incredibly humble. He tells me that since the sixth stage of the rally was full of mud, and full of rain, he's tried to ride as safe as he could, and he's pleased that there's one day less to the finish at Cordoba. "I'm happy with my rhythm, but I need to learn a lot. Some days I commit some mistakes," he says. Mistakes that he's disappointed with. But there are those other stages where he's "surprised with my level". Mena, who is still coming to terms with competing in rally raids says he is "Scared to drive fast - I need to see before, how is the jumps, or how is the corners, or how is the piste". After all, reading the terrain ahead of you is the only way to avoid crashes. "I have respect to drive fast," he clarifies later.
A stunning debut by rookie Oriol Mena.
Those of you who are scoffing at the fact that Mena says he's afraid to ride fast, need to keep two things in mind. First, remember that the terrain the riders need to tackle during the Dakar is mind-boggling - sand dunes, river bed crossings, mountain passes, fesh fesh and more. The second is that speed is relative. Your concept of fast, and Mena's concept of fast, are probably two very different things. I gain some idea of this when, for a brief moment between interview sessions, Santosh and Mena meet. "I was going the whole time 156, 160, 156. It was f***ing fast!" Mena says to his team-mate. "And then I see the Honda guys come and they go brrrrrrrrrrraaaaaaap, past me! So fast! F***ing crazy!" he laughs.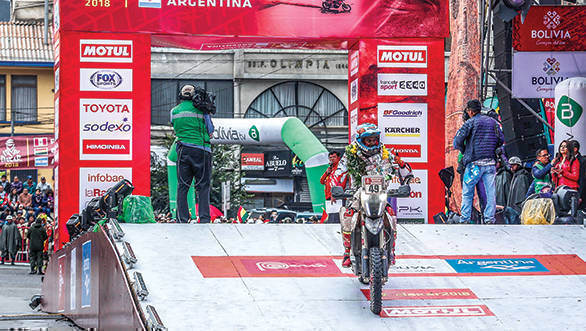 CS Santosh at the podium at La Paz, Bolivia.
Here are two riders who look like they've been chipped out of ice blocks. Both nursing some aches and pains. And both looking like they could do with a good night's rest. And despite it all they manage to stand around the place, chewing the fat, and having a bit of a laugh. So when Santosh repeats, "You have to be able to have fun on a rally like the Dakar. You have to find something to take home with you everyday," it all starts to make sense. It's the only way to justify the pain and suffering that is inevitable on a rally as long and as punishing as the Dakar.
Getting back up
Arequipa, Peru
10.01.2018
"When I was lying there I thought to myself maybe I should go back home."
CS Santosh is lying on the ground. His motorcycle lies a few feet away from him. It's his first major crash at the 2018 Dakar. He'd managed to build up a good rhythm over the course of the fifth stage, that heads from San Juan de Marcona to Arequipa. "Over the years I've always been afraid of the fesh-fesh," Santosh says. And it's the fesh-fesh that caught him out, when he was riding fast and didn't see a big rock buried beneath the fine powdery white surface. Santosh remembers cartwheeling through the air, with the motorcycle tagging him on the back of his shin on the way down. It's the reason for that limp we've already seen. "When I crashed there, I thought it was over, huh," he says.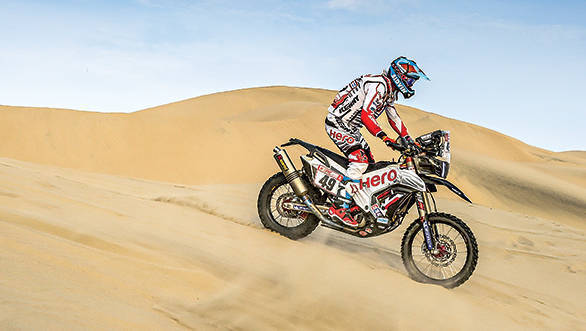 In those moments after he cartwheeled through the air and found himself sitting on the ground, Santosh says he thought he'd broken his leg. "I couldn't feel my leg, I thought it was the adrenaline that was preventing me from feeling the pain in the initial shock." It was then that he began wondering whether he ought to just pack up and go back home. "I sat there for 10 or 15 minutes thinking someone would come pick the bike up. But nobody came. Then I thought okay, I've got to get up and finish the Dakar." And so he got up, and rode till the end of the stage. He'd lost a lot of time, but he still finished 51st. It was an improvement on his performance the previous stage where he'd only finished 56th. And it certainly was a huge improvement over that disastrous third stage where he ran out of fuel around 20km to the finish line and had to wait for the slower riders at the back of the pack to come by and help him out. But the Dakar wouldn't be the Dakar without a few unexpected twists and turns along the way.
What goes up, must come down
Pisco, Peru
08.01.2018
"Every day, it's like you roll the dice."
The Dakar is like your whole life compressed into two short weeks. There are highs, lows, and everything in between - and that makes it very, very intense. Imagine my surprise, then, to see CS Santosh wandering around the bivouac with a smile on his face after the first stage that led from Lima to Pisco. He's got good reason to smile too, since he's managed to end the stage 13th. It's given him a certain amount of confidence - the knowledge that he has what it takes to run up there with the fast guys at the head of the pack. And he's also managed to check a couple of things off his bucket list, including appearing on television. The Dakar TV crew had followed Santosh and Nacho in the dunes.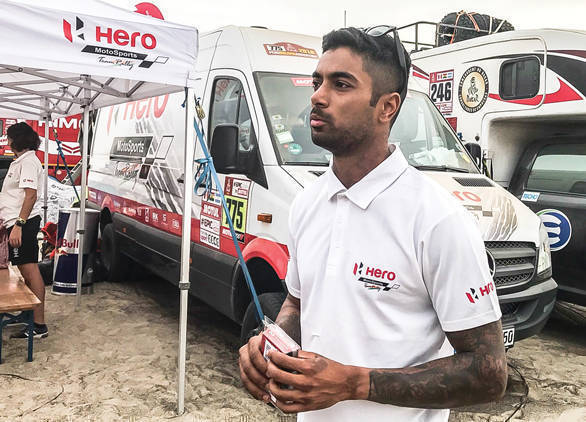 "I had a flash of speed here and there," Santosh says of that terrific first stage. But there's more to it than that he explains. "The only reason I ended 13th is because I had a really good guy riding in front of me," he continues. "It's like a time capsule. The guy ahead of me is showing me the future." It's something that helped immensely on the first stage - the terrain becomes easier to read based on the reactions from the rider ahead. The navigation too.
After the stage Santosh jokes, "I've told the team they should book me tickets back home. I'm retiring!" It's been his best stage finish at the Dakar since he first competed in the event in 2015, and he's, by his own admission, on cloud number 9. But our conversation with him is brief, because there's the all-important roadbook to work on before the end of the day.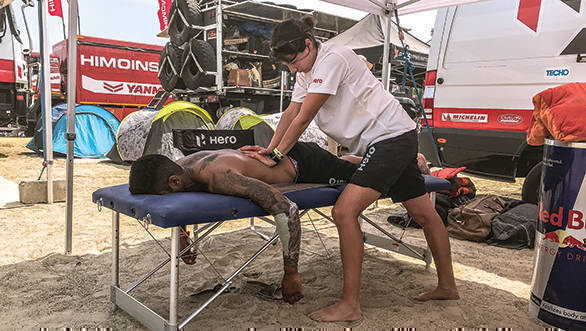 The team's physiotherapist was a new addition to the rally crew. Proved to be a good thing, as Santosh would later tell us.
Clearly Santosh works some magic with those coloured markers, poring over his roadbook for a couple of hours. He ends the second stage of the rally, within the dunes of Pisco, in 29th position. When we see him after the stage, he's being given a massage by the team physiotherapist. It's a move Hero MotoSports has made to ensure that any tiny issues that their riders develop over the course of a long day of riding, can be sorted out.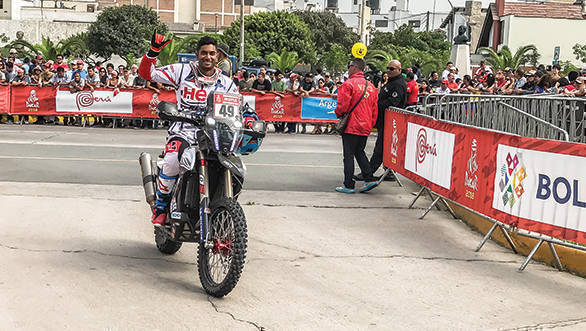 All smiles from CS Santosh as he headed to the podium at Lima, Peru.
The next day though, the wave Santosh has been riding comes crashing down. Standing where we are in Stage 3, we watch him come over a dune, cross a vast expanse of terrain, before making his way over another crest and disappearing off into the distance. Somehow, he looks like he's going slower on his RR450 than he ought to be. Later, we learn of that improperly fastened rear fuel cap, and the case of the leaking fuel. It's the reason Santosh ends up standing by the side of the stage, with just 20km to go. The time he loses sees him drop rapidly down the order. He ends the stage 97th. The good feeling that he had until the end of stage 2, "That evaporated, just like the fuel!" Santosh says. "One day you think everything is going according to plan, the next day it all evaporates. It's the Dakar, things go south sometimes."
The long way home
Jose Chavez International Airport, Lima, Peru
12.01.2018
"And that's enough!"
I understand, in full, just how south things can go at the Dakar. The realisation comes on rest day. The competitors are enjoying their much needed break in La Paz, as I can see from various Instagram posts. There's a picture from Santosh, who appears to be eating a rather large bowl of soup in a swanky hotel room. There's another picture from Joan Barreda Bort who is out partying with his mates. And there are still more from riders FaceTiming their families back home, and a couple of others who are fortunate enough to have family visit them in La Paz.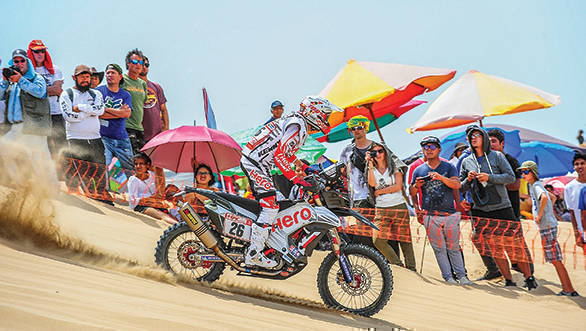 Joaquim "JRod" Rodrigues crashed on the first stage of the 2018 Dakar. The resultant injuries saw him head home.
In stark contrast to the posts that I see on Instagram, is the sight of Joaquim 'JRod' Rodrigues sitting in a wheelchair at Lima airport. JRod's the rider who the Hero MotoSports Team Rally outfit had their hopes riding on. He stunned last year when he finished his maiden attempt at the Dakar in 10th position. The last time I'd seen JRod was when he rode past us on his way to the podium in Lima ahead of the flagoff of the 2018 Dakar. A couple of hours after that the news came through that JRod had suffered a fairly grisly crash in the dunes. The result? A broken L5 vertebra. "I'm going back home to Portugal, and my doctor there will tell me if I need surgery," he says to me, with a weary smile on his face. But it's just that one injury? "Yes, just that. And that's enough!" JRod says, with a laugh. It's amazing that he's still managing to smile through all of this.
After wishing JRod a speedy recovery, not wanting to hover over him for too long, I begin make my way towards my boarding gate. The whole while I'm thinking of the very many little things that I consider problems. Tiny, non-issues that I allow to get under my skin and bother me. And I am reminded of my own pettiness. My own humanity. The people who compete in the Dakar, then, have moved beyond the petty - stopping to help each other on a regular basis. And maybe even beyond the human - picking themselves up no matter how badly they've fallen, and carrying on through broken bones, bruised bodies, and extreme amounts of fatigue. Their efforts are superhuman, their outlook is fearless, and their irrepressible spirits can only be marvelled at. And I realise that trophies and glory aside, the most beautiful part of the Dakar is its ability to put life into perspective. No wonder they keep going back.