Dakar 2018: KP Aravind out of the rally after crash on Stage 5
Sherco TVS Factory Rally team's KP Aravind had been making steady progress in his second attempt at the Dakar. However, Stage 5 that headed from San Juan de Marcona to Arequipa, changed all of that. The Indian rider suffered a crash early on in the stage that left him with an injured ankle. Aravind is now being brought to La Paz, Bolivia, for further treatment.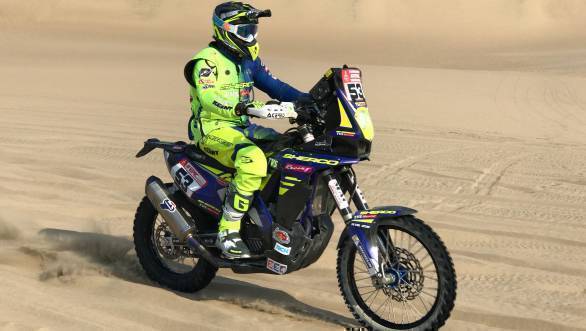 KP Aravind tackling Stage 3 of the 2018 Dakar
This is the second casualty in the 2018 Dakar rally for the Sherco TVS Rally Factory team. The first being Adrien Metge whose campaign ended after the event's second stage.
KP Aravind after the first stage of Dakar 2018
The Sherco TVS campaign at Dakar 2018 is now down to Joan Pedrero Garcia. The Spanish rider is currently ranked 15th overall in the Moto class, after five stages of rallying.