Dakar 2017: Stephane Peterhansel leads the Car category after Stage 5
Heavy rains on Day 5 forced the organisers of the 2017 Dakar to cut short the competitive section by around half the distance. Competitors had to race only for 219km instead of the planned 438km. Stage 5 took them around 680km from Tupiza to Oruro, with one more day to go before a well-deserved rest day.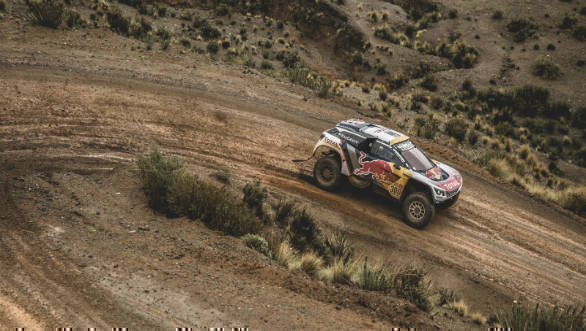 Stephane Peterhansel took the overall lead in the car category after finishing 3rd in Stage 5
In the Car category, Sebastien Loeb had a close run winning the stage just 44 seconds ahead of Nani Roma. Stephane Peterhansel meanwhile, took 3rd place, 1m31s behind Loeb. This put him at the top in the overall standings, while Loeb stands at second, just 1m09s behind him. Cyril Despres, who was at the top of the leaderboard after Stage 4, fell to third place after finishing 4th in the stage, 10m33s behind Loeb.
Sam Sunderland won the stage stage by 7m07s and took the overall lead
Taking the overall lead in the Bike category is Red bull KTM's Sam Sunderland, after winning the stage by 7m07s, ahead of Paulo Goncalves who finished in 2hr28m58s. Finishing third was Team Yamaha Racing's Adrien Van Beveren, just 22 seconds behind Goncalves. Pablo Quintanilla, who finished 7th in this stage, stands second in the overall standings by 12 minutes, while Van Beveren is third, 4m07s behind him.
In the Quad category, Kees Koolen won the stage with a time of 2hr57m43s, while Gustavo Gallego finished 12m06s behind him to take second. Dakar rookie, Simon Vitse, finished 51 seconds behind Gallego to take third place in the stage as well as the overall lead. Sergey Karyakin is 8m14s behind him at second, while Axel Dutrie is third.
Gerard De Rooy won the stage in the Truck category with a time of 2hr39m12s, to take the overall lead. Eduard Nikolaev finished 2nd in this stage and is 2m23s behind De Rooy in the overall standings. Dmitry Sotnikov, who finished 7th in this stage, is 3rd overall, 6m36s behind De Rooy.