Dakar 2017: Stephane Peterhansel leads the Car category after Stage 10 win
With just two stages left before the end of the 2017 Dakar Rally, the competition is getting very close, especially in the Car category. Stephane Peterhansel has managed to regain the overall lead from team-mate Sebastien Loeb, after winning Stage 10 with a time of 4hr47m. Loeb finished 7m28s behind him to take 2nd, while Cyril Despres took third with a time of 4hr57m01s. Peterhansel had actually finished the stage in 3rd place, after he collided with biker, Simon Marcic, and waited till the medical team arrived. According to the provisional results, Loeb had won the stage, while Despres took 2nd. However, once the time Peterhansel lost after the collision was given back, he was awarded the win.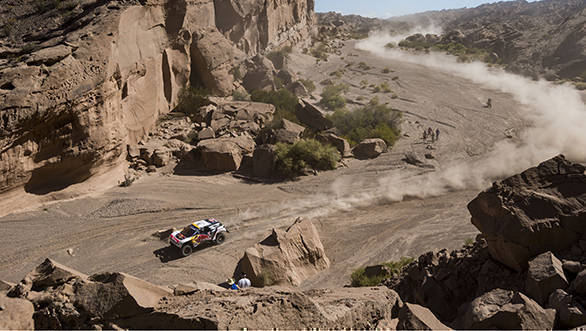 Stephane Peterhansel regained the overall lead after winning Stage 10
In the Bike category, Joan Barreda Bort took the stage win with a time of 5hr49m45s, which moved him up to 5th overall. Stefan Svitko took 2nd place in the stage, finishing just 24 seconds behind Bort, while Franco Caimi took third with a time of 5hr53m33s. Red bull KTM's Sam Sunderland, who finished the stage in 12th place, still holds the overall lead, while his team-mate Matthias Walkner is 30m01s behind him at 2nd.
Finishing the first in Quad category was Sergey Karyakin with a time of 6hr52m43s, while Ignacio Casale finished 10m46s behind him in 2nd place. Santiago Hansen took third with a time of 8hr19m09s. Karyakin is on top in the overall standings, while Casale is 21m05s behind him in 2nd.
Eduard Nikolaev finished first in the Truck category with 5hr33m06s on the clock, while Dmitry Sotnikov and Airat Mardeev took 2nd and 3rd to give Team Kamaz Master a 1-2-3 finish in Stage 10. Nikolaev and Sotnikov are 1st and 2nd in the Truck category's overall standings while Gerard De Rooy, who finished Stage 10 in 7th place, is 3rd.