Dakar 2017: Stephane Peterhansel extends lead at the end of Stage 7
The 2017 Dakar Rally leader Stephane Peterhansel has won the Stage 7 of Dakar 2017, stretching the lead to 1min 57sec to his team-mate and nearest competitor, Sebastien Loeb. The Frenchman managed to gain 48 seconds at the end of the stage, after a close battle with Loeb. Peterhansel began the stage with a narrow gap to Loeb; however, a gritty drive saw him leading by over a minute. Nine-time WRC champion Sebastien Loeb, however, did not let up the charge and managed to reduce the gap towards the end of the timed section.
The driving conditions were pretty challenging and the heavy downpour in Bolivia had forced the organisers to cancel Stage 6 and modify Stage 7, which is also the first phase of the marathon stage.
In the bike category, Ricky Brabec emerged as the sixth different rider to win a stage. The Honda rider was nearly beaten by his team-mate Paulo Goncalves, who managed to move up one position to eighth in the overall classification. KTM rider Sam Sunderland leads the overall bike classification with a healthy 17min 45sec lead over Husqvarna's Pablo Quintanilla.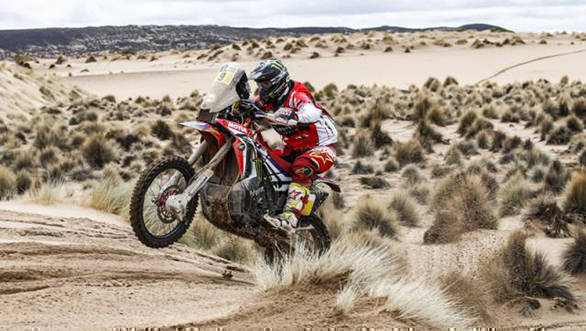 In the quad category, Russian Sergey Karyakin won the stage, completing the timed section in 2hr 32min 49sec. The determined drive also saw the team Yamaha rider rise to the top of the class. Previous stage winner Kees Koolen's quad suffered mechanical troubles, which caused him to slip down the order. Rookie Simon Vitse is second overall, with a 5min 16sec deficit to the leader. Axel Dutrie is third with a 5min 20sec gap to Sergey.
In the truck category, Kamaz's Dimitry Sotnikov won the stage to reduce overall leader, Gerard De Rooy's lead to little over 2min. Sotnikov finished the stage, 4min 25sec ahead of De Rooy's Iveco. Eduard Nikolaev is placed third overall, with a 5min 57sec deficit to De Rooy.