Dakar 2017: Sebastien Loeb regains lead in Car category after Stage 8
The 2017 Dakar Rally has been experiencing very heavy rains over the past few days, and has forced to organisers cancel two stages so far – Stage 6 and Stage 9. Even Stage 8 wasn't run according to plan with the rains causing a river on the route to overflow. This forced organisers to split the competitive section into parts, which reduced the distance to be covered by 68km.
Sebastien Loeb won Stage 8, 3m35s ahead of Stephane Peterhansel
In the Car category, the fight for the win between Sebastien Loeb and Stephane Peterhansel is very close with Loeb now regaining the overall lead after Stage 8 by a margin of 1m38s. Although Peterhansel started first, he had stopped for several minutes after the 110km mark, which gave Loeb the opportunity to overtake him. He won the stage, finishing 3m35s ahead of Peterhansel despite suffering a flat tyre around 70km from the finish. Cyril Despres finished 5m13s behind Loeb to take 3rd place in the stage, and is 3rd in the overall standings as well.
Joan Barreda Bort was the fastest in this stage with a time of 4hr28m21s
Winning the stage in the Bike category was Team Honda Racing's Joan Barreda Bort, who completed it in 4hr28m21s. This makes him the first person in this category to take two stage wins this year. He is currently 9th in the overall standings, 3m41s ahead of Hero MotoSports Team Rally's Joaquim Rodrigues. Finishing 3m51s behind Bort to take 2nd in the stage was Red bull KTM's Matthias Walkner, while his team-mate Sam Sunderland took 3rd, crossing the line just three seconds after. Sunderland currently leads the overall Bike category by almost 21 minutes, while Pablo Quintanilla and Adrien Van Beveren are 2nd and 3rd.
Ignacio Casale won the stage in the Quad category, finishing 5m39s ahead of Sergey Karyakin, while Axel Dutrie finished 3rd. Karyakin currently leads the category by 6m57s, while Dutrie and Casale are 2nd and 3rd respectively.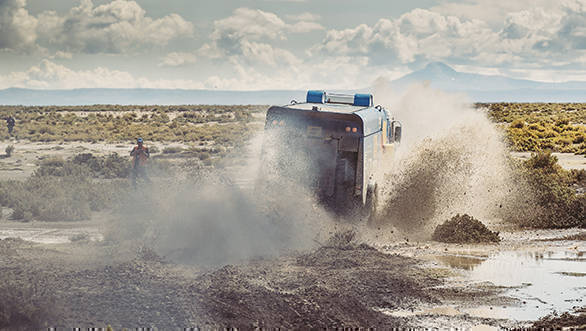 Dmitry Sotnikov currently leads the Truck category by 1m46s
Considering the weather conditions, organisers had to shorten the competitive section for the Truck category to 174km. Martin Van Den Brink won the stage with a time of 1hr55m, while Federico Villagra finished 17 seconds behind him. Eduard Nikolaev meanwhile, finished the stage 1hr56m02s to take 3rd. Dmitry Sotnikov currently leads the category, followed by Nikolaev and Gerard De Rooy (who finished 9th in the stage).