Dakar 2017: Sebastian Loeb wins Stage 11 to keep title hopes alive
Team Peugeot Total driver Stephane Peterhansel looks on course to winning his 13th Dakar title, despite team mate Sebastien Loeb managing to win Stage 11. The penulatimate stage from San Juan to Rio Curato featured a 292km timed section and the competitors made the most of the mixed driving conditions. While the first half of the stage had a slow off-road style sections the latter half was a fast. There was a neutralised zone in between these sections.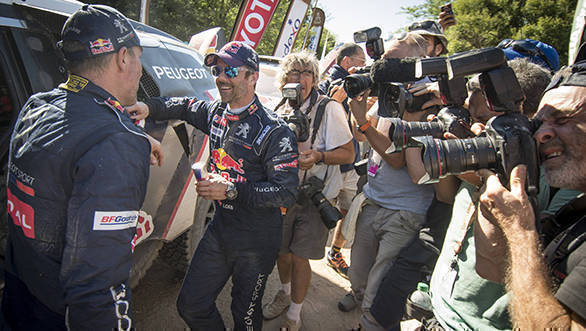 Peterhansel had a 5m50sec lead over Loeb at the beginning of the stage but he knew he could not relax. Loeb , on the other hand was pushing hard and managed to drop the gap to Peterhansel by half at the end of the first part of the stage. Loeb did not let off during the second half too, however, Peterhansel kept his cool and tried to ensure that he does not lose too much time to Loeb. At the end of the stage he managed to cut Loeb's advantage to 18 seconds only.
Loeb needs to make up 5min and 32s during the final stage of the Rally, which'll comprise a relatively easier 64km timed section. That's his only chance of denying Peterhansel the Dakar 2017 title.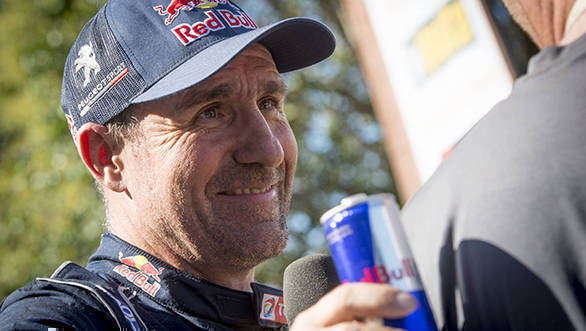 In the Bikes category, Honda rider Joan Barreda took his fourth stage win of the Rally. The win came after stewards decided to give back the three minutes he lost on account of spectators not following rules and stepping out of the restricted zone. This demoted his team mate Paulo Goncalves who'd won the stage 1min9sec clear of Barreda. It would have been Gonclaves' maiden Dakar stage win. KTM rider Sam Sunderland appears to have the title in the bag, after a commanding 33m09s lead over teammate Matthias Walkner, going into the last stage.
In the Trucks category, Kamaz's Eduard Nikolev recorded his second, consecutive stage win, increasing his lead to 17m09s over his team mate, Dmitry Sotnikov. Nokolev finished Stage 11, around 11 minutes ahead of Sotnikov.
In the Quad class, Sergey Karyakin won the stage and managed to extend his lead in to second placed Ignacio Casale by over an hour. Karyakin's strong performance has put him in a strong position to secure the Quad Class title this year.