Dakar 2017 preview: CS Santosh on tackling the difficulties that the dunes pose
Whenever I ride, I try and visualise what could happen. You've got to envision all the difficulties that you could face. All the struggles. You've got to envision overcoming them. And also envision the parts where you have good days, and mentally you've got to prepare for that."
Thus speaks CS Santosh, when he's talking about off-road motorcycle sport, particularly the Dakar Rally. And as far as struggles go, the Indian rally-raid rider has endured a fair number of those within the sport he feels so passionately about. From suffering third-degree burns at the Abu Dhabi Desert Challenge in 2013, to recovering from the accident, his resolve even firmer that he would one day compete in the Dakar, Santosh has come a long way. He's already done the event twice, finishing 36th the first time around, and retiring the second time. But the good days that he spoke of appear to have arrived. For, at the 2017 Dakar Rally, Santosh is finally a factory rider with Hero MotoSports Team Rally - a collaboration between Indian motorcycle manufacturer Hero MotoCorp and off-road specialist Speedbrain GmbH.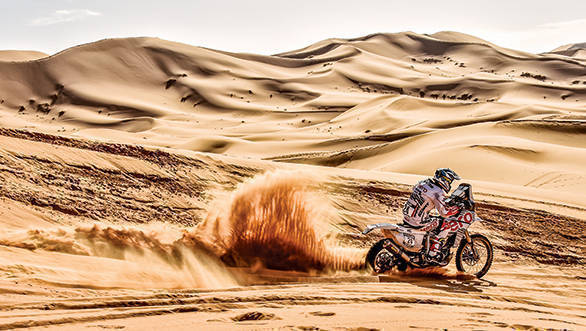 CS Santosh has already piloted the Speedbrain 450 at the 2016 Merzouga Rally and Oilibya Morocco Rally
What does this translate to? Well, to begin with, Hero MotoSports Team Rally forms the second major Indian contingent at the 2017 Dakar Rally, after the Sherco TVS team whom you've read about in the previous pages. The second is that it means Santosh finally has a completely professional operating system around him, which is likely to help him perform better at the Dakar.
Let's start with Speedbrain. The company has been in the rally-raid business for over a decade now, and has plenty of experience not just at the Dakar but at a whole host of other off-road events. But perhaps the sharpest knife in its box happens to be managing director, Wolfgang Fischer, who has in the past even served as a team manager for Team HRC. The motorcycle that Fischer and the Speedbrain outfit have readied for use in the Dakar Rally, by Santosh and his team-mate, motocross star Joaquim Rodrigues, is the Speedbrain 450. And it's astride the Speedbrain 450 that Santosh and Rodrigues have tackled the Merzouga Rally and the OiLibya Morocco Rally earlier this year. Heading the maintenance and upkeep of the motorcycles over the course of the two-week long event is the team's chief mechanic Felipe Barbosa.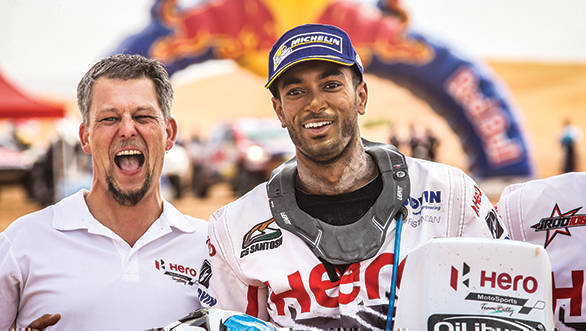 Hero MotoSports Team Rally has an experienced hand in Wolfgang Fischer who heads their Dakar operations
And while the team's been taking care of absolutely everything else, it's left Santosh with one, albeit fairly important task - riding. When he looks back at the 2015 edition of the Dakar, Santosh says he feels like he was out riding "to the grocery store". That's just how much of a difference the sheer number of hours training on the motorcycle have made. It's a gruelling training session too, which involves riding with the roadbook for close to three or four hours, training motocross (under Daniel Hernandez), or riding his bicycle. All three, Santosh says, are critical to training for the Dakar. And all three are just as much about training your mind, as well as your body. As Santosh says, it's impossible for the human mind to be 100 per cent sharp all through the rally, but every time you lapse, the chances of your whole rally unravelling are huge. Training as much as possible is the only way around it, then.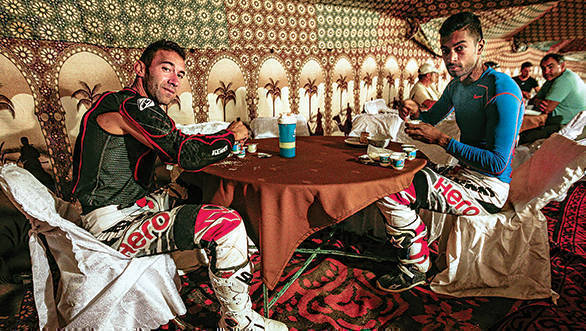 CS Santosh and Joaquim Rodrigues have their work cut of for them though
And it's the luxury of training that the Hero MotoSports have granted Santosh. Something he's very grateful for. Other than the fact that he has the motorcycle available to him all the time, there's a distant but watchful eye being kept on him. Fischer monitors his progress via a spot tracker, which means that as Santosh is riding and training, his team boss is checking how his rider is progressing. "It's cool for him to be interested in what I'm doing," says Santosh, who is also grateful for the fact that the team treats him on par with his team-mate 'J-Rod'.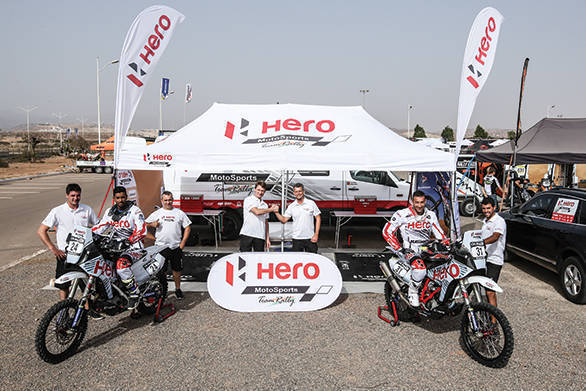 The main expectation from the factory in their first year is for them to just finish the Dakar, with anything above that being a bonus. For Santosh as a rider though, it isn't just about being able to finish. It is, instead, about being able to go fast. The riders at the head of the order at the Dakar are very, very quick. And achieving this speed involves a whole lot more than just twisting the throttle. Which makes that goal of a top-20 finish that Santosh is hoping for rather tricky.
"I think to ride inside top 20 also involves pushing the mental barrier. I know what kind of speeds I need to do, because I've trained with some of these guys here. I'm hoping to achieve those kinds of speeds. Let's see how it goes," he says.
CS Santosh speaks:
On his goals for Dakar 2017
Well, as far as goal-setting goes, being top 20 is something I'd like to achieve. If it's going to happen or not at this Dakar is something that I'm not going to lose sleep over. I am at this point in time enjoying my time on the bike, and I'm really excited about going racing in South America again, but this time with Hero!
On the Morocco Rally
The problems we had in Morocco with my engine won't be a problem since we run different engines at the Dakar and I am confident that we won't run into that kind of trouble again. Personally I think I rode well and I am happy with my speed.
On Hero's goals for Dakar 2017
The team's idea of a successful Dakar is that we all get through the first Dakar and make the finish. This is the most important goal.
On the strategy for Dakar 2017
Well at this point there have been no instructions (with regard to a main rider and supporting rider). But I think we will figure it out as the rally progresses.
On his motorcycle for Dakar 2017
My mechanic is Boy Olieslagers. I have complete faith in his ability to build me a bike that is competitive and strong!