Dakar 2017: Hero MotoSports Team Rally's Joaquim Rodrigues stands 16th after Stage 1
After the short 39km competitive section in Stage 1, Hero MotoSports Team Rally has come out with a decent standing. Joaquim Rodrigues stands at 16th place in the Bike category with a time of 29m42s. He managed to finish three seconds ahead of last year's Dakar-winner, Toby Price. Rodrigues didn't hold back too much on the first day and even managed to scare himself a little after going over a bump too hard and hitting some rocks.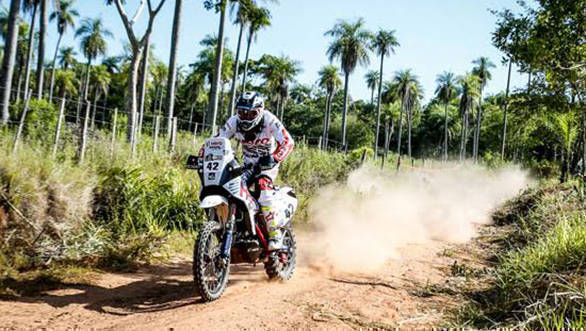 CS Santosh, making his way through Stage 1 of the 2017 Dakar Rally
In contrast, his team-mate CS Santosh who started 42nd, used a more conservative approach and finished 47th out of 142 competitors, with a time of 32m45s. Santosh said that it took a couple of kilometres to understand the kind of terrain he would be facing for the rest of the stage. He didn't want to push too hard as there was still a long way to go before the finish line. Santosh was content with his performance and with how he was able to minimise his mistakes.